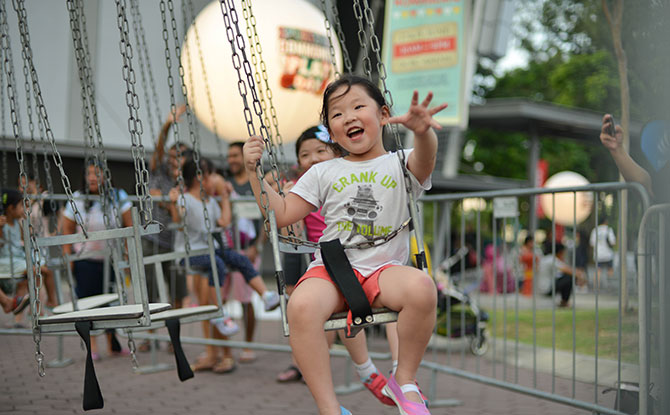 There are tons of school holiday activities Singapore 2018 that are taking place during the months of November and December 2018. From magical wizardry to holiday theatre treats to mythical beasts, you won't be at a lost when it comes to school holiday activities Singapore 2018 for the year-end season with children.
Here are some of the exciting activities that children can look forward to during the year-end 2018. Whether it be nature and the outdoors or holiday programmes to keep kids learning and engaged, discover school holiday activities Singapore 2018 in November and December 2018 below.
School Holiday Activities Singapore 2018
1. Experience a Hot Air Balloon in a Mall
Velocity@Novena Square is bringing hot air ballooning into the mall with the Hot Air Balloon Fiesta from 30 November to 30 December 2018. Take insta-worthy photos and experience a room filled with "stars". Find out more here.
2. Carnival at Changi City Point
Head down to Changi City Point to enjoy a Christmas Carnival from 30 November to 16 December 2018. Make a splash on the Drum Walker, steer bumper boats and enjoy carnival games. There are also prizes to be won in a We Bare Bears 'live' game! Find out more.
3. Travel the World at Science Centre Singapore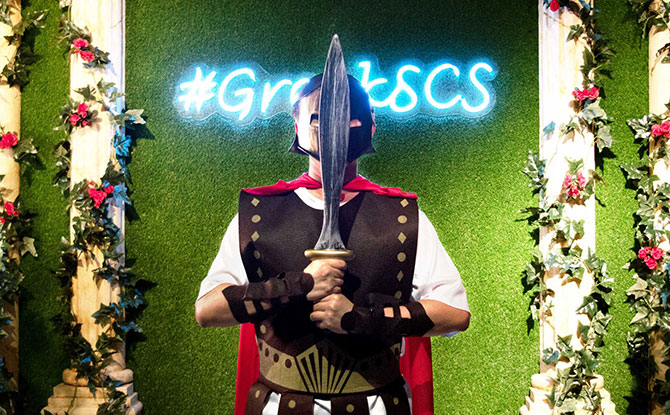 Explore the tech of the Ancient Greeks, be awed by the Northern Lights and re-discover the tale of Hansel & Gretel like never before at Science Centre Singapore and its group of attractions. Visit three or more of these attractions and get a souvenir from your visits. Find out more.
4. Believer Music Holiday Program
Take the fast track to learning music with Believer Music's school holiday program. Classes are available for contemporary instruments like the keyboards, guitar, drums and more.
Little Day Out Readers enjoy 12% off with code EVCLDOSHP2018 at the payment summary page. This is limited to the first 20 registrations! Find out more about Believer Music's School Holiday Program and sign up here.
5. MindChamps Reading Bootcamp for K1 and K2s
Nuture your child's love for reading with MindChamp's exciting reading bootcamps during the November and December school holidays 2018. Younger kids and their parents can also participate in a Parent & Child Reading Workshop. Get more information here.
Little Day Out Readers get to enjoy a 10% discount on MindChamps Reading Bootcamps and other programmes with discount code LDO10.
6. National Orchid Garden Holiday Special
Pay a visit to the National Orchid Garden for free during the November, December holiday period. Enjoy this school holiday activity in Singapore 2018 amongst beautiful flowers and Singapore's national flower too.
7. Escape Room Experience at River Safari
Story continues below...
---
---
Story continues...
Looking for educational school holiday activities Singapore 2018? Explore River Safari and learn about fearsome river creatures, solve puzzles and win premiums.
8. Dragons at Singapore Zoo
Visit the Valley of Myths at Singapore Zoo during the year-end school holidays 2018 and come face to face with mythical creatures like the unicorn and dragons. Dragons and Beasts will also feature activities on the weekends. Find out more.
9. Ocean Exploration Workshop with The Music Scientist
Take a deep dive into the ocean with The Music Scientist's school holiday programme. Taking place on 12 December, the Ocean Exploration Workshop at Punggol SAFRA is suitable for 3 to 4 year olds. Older ones from 5 to 8 can look forward to an Immune System Booth Camp. Get more information here.
10. SuperPark Singapore
Get moving at the latest indoor park in town. SuperPark Singapore has more than 20 different stations that cater to both children and adults. Play side by side with your kids at this new facility and you have some of your school holiday activities Singapore 2018 sorted. Find out more.
11. Droneflying and VR Goggles
Learn how to fly a drone (and bring it home after) and create your own VR cardboard goggles in these fun parent-child workshops, suitable for children 7 to 14, at ITE College Central. These two tech workshops take place 4 December 2018. Find out more.
12. Harry Potter at Changi Airport
The Wizarding World Holiday has landed at Changi Airport. Have fun at iconic locations such as Hogsmeade Village and the Grand Staircase at Hogwarts at Terminal 3. For fun school holiday activities Singapore 2018, take some pictures around the airport to gain entry to the games and stations at Diagon Alley. Find out more here.
13. Christmas Wonderland 2018
For school holiday activities Singapore 2018 that will get you into the festive mood, head down to Christmas Wonderland 2018 at Gardens by the Bay where the yuletide cheer will be ushered in with light sculptures and song. Find out more.
14. Hansel & Gretel at Snow City
Chill out, literally, at Snow City where there are Hansel & Gretel themed activities in store. Meet the mascots and participate in storytelling sessions. There will also be blizzard and wind chill experiences.
15. Poinsettia Wishes
Disney Tsum Tsums have overtaken the Flower Dome at Gardens by the Bay as part of Poinsettia Wishes. This is one of the Disney-related school holiday activities Singapore 2018 where you can soak in cuteness with the beauty of the Poinsettia flowers.
16. Kovan Learning Centre Holiday Programme
Give your child's Maths skills a boost with Kovan Learning Centre's holiday programmes for 5 to 12 year olds which adopts a schema-based instructional approach with Maths-related games. Find out more here.
17. The Adventures of Lulu & Hugo
Become Time Travelers, uncover the Secret of the Merlion and get cooking with Learning Horizon's themed holiday camps and programmes for children as young as 18 months. These camps are designed to incorporate fun activities with learning for an engaging time for the kids. More information here.
18. The Grandstand Holiday Camp
Experience taekwondo, fun with Lego bricks, art and gymnastics at The Grandstand. The two-day holiday camp offers plenty of variety in terms of school holiday activities Singapore 2018 for kids. Find out more here.
19. The Inventions of Ancient Greece at Science Centre Singapore
Take a journey back in time at Science Centre Singapore and view models of ancient Greek technology. Marvel at how many inventions which we consider modern were invented long time ago in Ancient Greece. Read more about it here.
20. Island Nights 2018
View light sculptures at Sentosa's Palawan Beach and view the first Pikachu Night Parade outside of Japan during the year-end school holiday period. More details can be found here.
21. The Night Before Christmas
Get a theatrical treat in December with The Night Before Christmas – a charming tale all the way from the UK. Follow along in this heartwarming production about the true spirit of Christmas.
Little Day Out readers get to enjoy 10% discount on The Night Before Christmas tickets with special code LDONBC2018 when booking through SISTIC.
22. Have Snowy Fun In Singapore
Want some school holiday activities Singapore 2018 where you can experience wintery fun? We have rounded up places to play with "snow" in Singapore. Find out where.
23. Singapore Sports Hub's Community Play Day in December 2018
Experience a day of activities at Singapore Sports Hub's Community Play Day on 1 and 2 December 2018. There will be festive craft workshops and carnival games and all are welcomed to enjoy the fun. Read more here.
24. Go on a Chocolate Factory Tour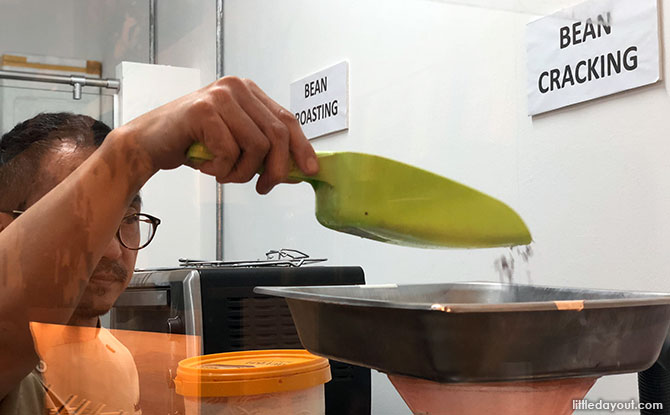 Lemuel Chocolate offers tours of its chocolate production facilities. Learn how chocolates are crafted from bean to bar. Find out more.
25. Create a Crazy Contraption at Kaesac Learning Centre's Holiday Workshop
Participate in science and maths enrichment workshops during the school holidays. Kaesac Learning Centre's holiday programmes introduce kids to science through thematic projects. For example, they can build their own toys or create a robot. Find out more.
26. Little Green House's Superheroes Open House
Looking for a preschool for the new year? Little Green House is running their Superheroes Open Houses at their centres at Tampines, Jurong and Serangoon. There are sure-win dips and Sephora, GRAB and CapitaLand vouchers up for grabs at the Superheroes Open House. Get more info here.
27. Musical Taru
Starting from 7 December, catch Musical Taru, a Mandarin musical featuring life-sized dinosaur skeletons and a catchy soundtrack at Resorts World Theatre.
28. Dazzling Moments at SAFRA Tampines
Join SAFRA Tampines' Annual Festive Light Up on 24 November and take part in different play zones as part of the Families for Life December Holiday Workshops. Find out more.
29. Heritage Tour at Singapore Botanic Gardens
Embark on a walking tour around Singapore's UNESCO World Heritage Site and get an introduction to its history on 22 December 2018. Other nature-related school holiday activities Singapore 2018 include tours being conducted at Sungei Buloh and Chek Jawa during November and December 2018.
30. The Little Prince Behind the Story
Get a peek behind the story of The Little Prince at the Singapore Philatelic Museum.
31. Ganga – The Heavenly Princess
Experience the story of Ganga – The Heavenly Princess at Esplanade – Theatres on the Bay. Be enchanted by the story of how Ganga brought back the rains and nourished the earth. This performance is recommended for children aged 4 to 8 years old. Find out more.
32. Wishing Stars at KidZania Singapore
Have a jolly good time at KidZania Singapore from 19 November to 31 December 2018. There will be a Christmas Parade and Bazaar around the City, plus craft activities too. There is free admission in the evening from 6 pm to 10 pm, 21 to 31 December 2018 too.
33. SSO Babies Proms 2018
For some musical school holiday activities Singapore 2018, book your tickets for the SSO Babies Proms 2018 at Victoria Concert Hall, 8 to 9 December 2018.
34. Eye Level's Free Diagnostic Test and Lesson
Sign up for a free diagnostic test and lesson at Eye Level Centres islandwide to experience its self-directed learning programme for Maths and English. Get more info here.
35. A Nutty Christmas at Suntec City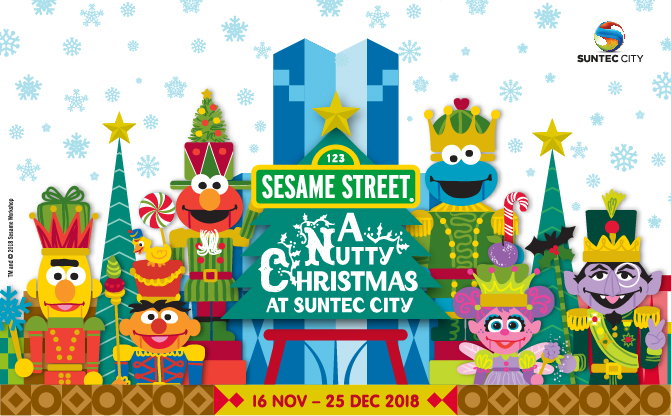 Experience a nutcracker-themed Christmas at Suntec City with the gang from Sesame Street. There is a Sesame Street Live Show, Marching Parade and more from 16 November to 25 December 2018. Find out more.
36. Actor's Studio – Build Confidence
In partnership with Lorna Whiston Schools and ABA Theatre Academy, Discovery Camps is offering the Actor's Studio camp where children will get to engaging in fun drama activities across improvisation and storytelling. This is one of the eight all-inclusive holiday camps which Discovery Camps has on offer for the November and December vacation period. Find out more.
37. The Great Moscow Circus
Head under the Big Top by Marina Bay Sands to view the death-defying acts at The Great Moscow Circus. On till 2 December 2018. Read more about it here.
38. Hullabaloo at The Artground
Till 6 January 2019, visit The Artground to experience the explosion of colours and patterns that is Hullabaloo.
39. The First Glowing Ocean
Experience five multisensory zones at S.E.A. Aquarium with glowing sea creatures and light art installations.
40. Twilight Encounters
Night Safari will be holding its first pop-up market. Get better entry deals with a combo ticket that includes Rainforest Lumina – plenty of night-time school holiday activities Singapore 2018. More details here.
41. Saint Marc Children's Choir – Evening of Disney Delights
On 20 and 21 November, the Saint Marc Children's Choir will be bringing song and music to Victoria Concert Hall.
42. Christmas Village at Downtown East
From 23 November 2018 to 6 January 2019, head to Downtown East for school holiday activities Singapore 2018 that include a Christmas Market and Santa meet-and-greet sessions.
43. A Universal Christmas
Taking place from 1 December 2018 to 1 January 2019, spend a day at Universal Studios Singapore and have some memorable school holiday fun in Singapore 2018 at the rides and attractions.
44. Thinking Camp Programme
Children from Primary 3 to 6 can take part in MindChamp's Thinking Camp Programme to gain self-directly learning skills, creative problem-solving and give their confidence a boost.
Little Day Out Readers get to enjoy a 10% discount with discount code LDO10.
45. Coding Lab Holiday Programmes
Get your child future-ready with Coding Lab's holiday programmes. These cater to children as young as four years old. Popular flagship programmes include Junior Coders' and Game Creation.
Use promo code LDO5 to 5% off any Coding Lab class.
46. Aurora: Lights of Wonder
Experience the Northern Lights from the comfort of a seat at the Omni-Theatre Singapore. The 8K 3D Digital Dome Theatre is also showing Space Next, a film about the possibilities of space exploration.
47. Passport to Primary 1
Calling all kids who are heading to primary 1 next year, Learning Horizon has a fun, secret mission camp to prepare you for the new challenges in the next phase of life. Find out more.
48. Dance With Little Ones
Join Wings to Wings for themed dance workshops for little ones in December featuring the music from various movies. Find out more.
49. NTUC Card Discount at Sentosa
NTUC Card members get to enjoy 50% discount at iconic Sentosa attractions like the cable car and Sentosa Merlion during the year-end period. Get more details here.
50. Terra Minds Science and Robotics Holiday Programmes
Engineer a hydraulic machine and learn how earthquakes come about at Terra Minds. There are many different science and robotics programmes taking place for various ages during this holidays. Find out more.
51. Orchard Road Light Up
View the Disney characters along Orchard Road and visit a Christmas Market as part of this year's Orchard Road Light Up.
Need more ideas on what to do?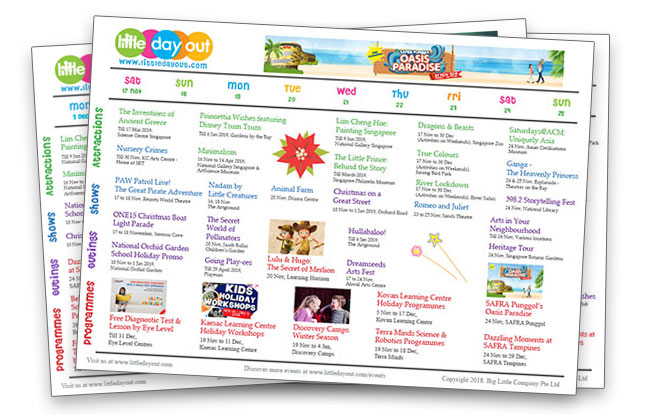 Get Little Day Out's Holiday Guide here or visit our Amazing List of Year-end School Holiday Activities.
After my recent - and very first - visit to the lush Far East Organization Children's Garden at Gardens By The Bay, I wondered...
For those taking a stroll around Singapore's public spaces, there are public art works and sculptures that are easy to appreciate. And, if the...
FEATURED LISTINGS