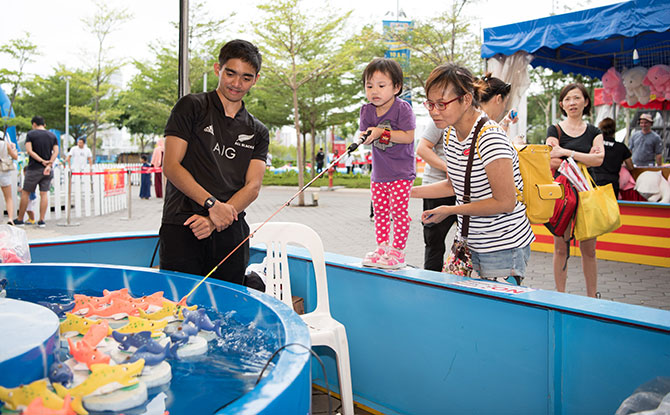 Celebrate the year-end 2018 with a host of exciting activities at the Singapore Sports Hub in a Season of Giving which include the Sports Hub Community Play Day in December 2018.
From 27 Nov 2018 to 1 Jan 2019, there will be workshops, film screenings, festive bazaars, as well as opportunities to do your part for charity amidst all the merrymaking. The atmosphere at the Singapore Sports Hub will be nothing short of Christmassy as the ChariTrees light up the Stadium Riverside Walk.
Sports Hub Community Play Day in December 2018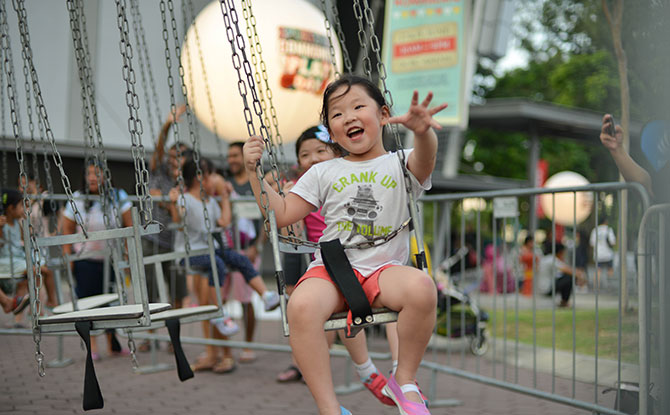 Traditional carnival games and rides, an inflatable playground, the Fashion for a Social Cause runway, stage performances by the likes of Grandma Mary and Band, a Fitness Marathon by Giordano G-Motion, festive craft workshops, and more await visitors to the Sports Hub Community Play Day, happening on 1 and 2 December 2018 at the Singapore Sports Hub.
Have fun with the family while doing your bit for charity at the same time – that's what this season of giving is all about!
Cheer on the contestants of Singapore's Next Top Inclusive Model Hunt Finals as they take to the runway in the Fashion for a Social Cause 2018 Grand Finale Show on 1 December, or create your very own shrink art key tag to give away at Christmas.
Energiser bunnies can have a go at the Nerf obstacle course or at archery target shooting, while the rest of us relax centre stage with performances by OnWheels Dance Group, and the A-Capella Society.
---
Story continues below
Go prehistoric at Singapore Zoo during the November-December 2019 school holidays at Singapore Zoo with a Mammoth Adventure Back in Time. Enter the Valley of...
Run, run as fast as you can; be sure to catch SRT's The Little Company's The Gingerbread Man! The story about the mischievous little cookie...
---
To register for the charity runs or for the full line-up of activities, please visit www.sportshub.com.sg/CommunityPlayDay.
Date: Saturday and Sunday, 1 and 2 Dec 2018
Time: 9am – 7pm
Venue: OCBC Square
Neon ChariTrees
Take a stroll down the Stadium Riverside Walk at the Singapore Sports Hub and feel all festive as you bask in the neon glow of the ChariTrees. Each tree has been adopted by corporate donors and all proceeds will be donated to the Singapore Red Cross.
Venue: Stadium Riverside Walk 
Santa Meet-and-Greet
Have a special something you'd like this Christmas? You'll get to tell Santa yourself and take a photo with him in special Meet-and-Greet sessions on the weekends from 8 to 23 December!
Or you could just drop your letter off in the Santa Express Mail Box located outside Stadium MRT Station (Exit A), and it'll be delivered to Santa!
Date: Weekends, 8 to 23 December 2018
Time: 8.30pm – 9.30pm
Venue: Stadium MRT Station, Exit A
Christmas Carolling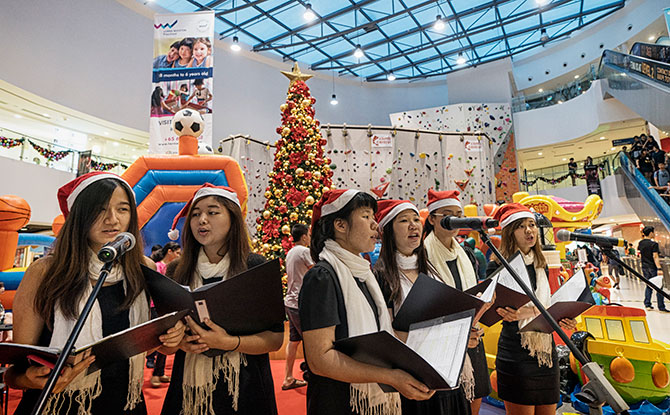 Can't get enough of Jingle Bells and Rudolph the Red-Nose Reindeer as you countdown to Christmas?
On selected weekends, join carollers at the Singapore Sports Hub and sing along to your favourite yuletide tunes! To learn more about the carolling schedule, please visit www.sportshub.com.sg/seasonofgiving.
Date: Weekends, 15 to 23 December 2018
Times: 1PM, 7PM
Venue: Kallang Wave mall
Crafts for Kids
Unleash your child's creativity and stand a chance to win tickets to Disney on Ice 2019!
Simply pick up a Christmas stocking at the counter, have them decorate it and drop your entry at the Sports Hub Library counter. The most popular and creative design will walk away with tickets to watch Disney On Ice 2019 for the whole family!
Date: 27 Nov to 26 Dec 2018
Time: 10am – 8pm
Venue: Sports Hub Library
15 Shorts – Film Screenings
Be inspired by short films based on true stories of Singaporeans who have performed selfless acts from 1970s to 1990. Directed by local filmmakers, these short films – including One At A Time by Daniel Yam, and Waiting Room by Nicole Midori Woodford – explore social issues, friendship, and local nation-building.
Catch the screening of 15 Shorts for free at the Sports Hub Community Play Day on 1 and 2 December, or head to the Sports Hub Library on the weekends from 15 to 23 December for screenings.
Date: 1 and 2, 15 and 16, 22 and 23 December 2018
Time: 12 pm – 2pm (15, 16, 22, and 23 Dec)
Venue: Sports Hub Library
For more information and details, visit the Singapore Sports Hub website here.
More Stories on Christmas:
Go ice skating. Complete an inflatable obstacle course. Become a human claw and grab attractive prizes! Fun times await at Aperia Mall's Christmas Village,...
Start the festivities right with UE Malls this Christmas season! Christmas Adventures @ UE Malls is happening on 7 & 8 December 2019 where you...
FEATURED LISTINGS