Celebrate this Childrens' Day weekend with a slew of fun outings and exciting activities, from an arts festival for kids and a musical about the magic of childhood to concerts and museum programmes geared specially towards young ones.
5 to 7 Oct
Esplanade
Young minds are sure to get fired up at this kids' arts festival packed with performances, workshops and activities. For the first time, there's even a Children's Parade for little ones can skip, hop and march down the Esplanade Waterfront accompanied by their peers, music and a giant puppet! Details.
6 Oct, 10 am to 7 pm
Singapore Philatelic Museum
Enjoy quizzes, storytelling, art and craft, and free goodies at this Childrens' Day-themed  celebration. There' also free entry for all to the museum's The Little Prince In The Dark Collection. More info.
Till 20 Oct
Drama Centre Theatre
Full of humour and wonder, memorable characters and toe-tapping musical numbers, this multi award-winning prequel to the Peter Pan legend is sure to bring you back to the innocence and magic of childhood. Learn more.
7 Oct, 6:30 pm to 7:30 pm
Singapore Botanic Gardens
Get set for an afternoon of picnics and music, as the MacPherson Philharmonic Orchestra performs familiar classics ranging from Teresa Teng to Disney's Frozen. There will also be two free music workshops conducted before the concert. Find out more.
6 Oct, 11 am to 3:30 pm
Singapore Polo Club
Spend a day out amongst magnificent horses and gentle ponies at this family carnival. Look forward to rides, feeding sessions, face painting and other activities. Learn more.
7 Oct, 3 pm to 4 pm
Esplanade Concert Hall
Here's a chance for kids and families to embark on a musical adventure and discover more about the orchestra and classic compositions like The Nutcracker. Details.
5 to 6 Oct, 8:30 am to 5 pm
Suntec Singapore Comvention and Exhibition Centre
Find out from the experts how you can inculcate positive values and communicate with your little ones, as well as support their early development and wellbeing. There are also interactive and educational programmes and performances to look forward to. More info.
Till 6 Oct
Science Centre Singapore
An original production that teaches us about kindness and science all at once, this is one musical journey that will entertain and educate. Find out more.
If you are wondering "where to eat" at Great World City, which has been rebranded as Great World, we've got some suggestions for you!...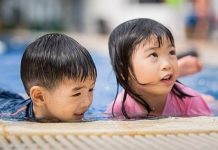 We often hear from parents that swimming is just one of the many activities their child takes part in after school. Which is great!...
FEATURED LISTINGS