Embark on the Trails of the Forbidden Forest at SAFRA Punggol this October for some spook-tacular family fun. With themed scare zones, carnival games, a magic show, Halloween craft activities, complimentary carnival food and more, an enchanting evening awaits at this Halloween-themed event on Saturday, 13 October 2018.
While some Halloween events may be overwhelming for young children, SAFRA Punggol's Trails of the Forbidden Forest has been specially curated to be a family-friendly Halloween night that even those as young as 3 years old can enjoy.
Here are some of highlights and activities of this year's event.
Themed Scare Zones
Once upon a time, the two Ong siblings were on their way home when they found themselves lost in the forest…
---
Story continues below
What better a way to scurry into the New Year of the Rat than with a new year feast at Fat Chap! Priding themselves...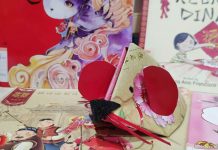 Dong dong chang! Right on the heels of Christmas is another important season for the Chinese – the Lunar New Year, of course. Remembering...
---
Now, it is time for families to jump into the story by navigating their way through three "Scare Zones" at SAFRA Punggol's Trails of the Forbidden Forest.
Race against the clock in search of a fairy's missing wand at the first Scare Zone, the Triwizard Maze. Form a group of up to four persons and scavenge for the magic item before time runs out!
At the second Scare Zone, venture into The Witch Cottage where the Ong siblings are being held. Use your wits to escape the clutches of the evil witch.
Finally, explore the Wonders of the Forbidden Forest. Make your way through the trail and keep a look out for a fairy and friendly spirit who will help guide the way.
The themed Scare Zones are designed for those 3 years and older. Children will need to be accompanied by their parents.
Carnival Games, Crafts, Movies and More
Head over to the Trails of the Forbidden Forest's Carnival Game stalls to work your magic.
Toss a ring at witches' hats, knock over some tin can monsters and take part in other exciting games.
For more crafty fun, cast your spell on cupcakes and watch them rise, or get your likeness transformed with face paint for the evening.
Other activities that families can look forward include a bouncy castle, photo booths and virtual reality try-outs. There will also be screenings of four movies during the event. And, carnival food too!
Magic Show
Families can enjoy a spell-binding magic show during SAFRA Punggol's Halloween event.
The magician will be conjuring up magic to keep both kids and adults enraptured. The magic show will include segments where participants can get up close to the magician as he performs his tricks.
Dress Up For Fun!
To get fully immersed into the action, come dressed for the occasion in your Halloween best.
Don't have a costume readily available? During the kid-friendly Halloween event, you can visit the Global Mascot booth to rent a costume and accessories for the evening.
If you want to get the costume before the event, take advantage of a special Trails of the Forbidden Forest discount when renting a costume at Global Mascot's CT Hub 2 outlet along Lavender Street. Simply present your Trails of the Forbidden Forest payment receipt by 13 October to make 15% disappear off the rental rate.
During the event, you may even get rewarded with a prize if chosen as the "Best Dressed" for the evening.
Sign Up Early To Get A Goodie Bag
SAFRA Punggol's Halloween event Trails of the Forbidden Forest is open to both SAFRA members and guests. The first 350 to sign up will receive a FREE goodie bag.
Event tickets which admit one child (3 to 12 years old) and one parent cost only $15 for SAFRA members and $20 for guests. Included in the ticket price is admission to all activities.
Talk about an amazing deal.
Registration online or at any SAFRA Club Customer Service Counter. Registration closes Wednesday, 10 October 2018.
Be sure to sign up for SAFRA Punggol's Trails of the Forbidden Forest quickly – before the tickets go "poof" and disappear!
SAFRA Punggol Halloween Event 2018: Trails of the Forbidden Forest
When: Saturday, 13 October 2018, 6 pm to 11 pm
Where: SAFRA Punggol
How Much:
Child Admission (1 child, 3 to 12 years old and 1 parent) – $15 for SAFRA Members and $20 for Guests
Additional Accompanying Adult – FREE for SAFRA Members and $5 for Guests
Subsequent Child (3 to 12 years old) – $8 for SAFRA Members and $10 for Guests
General Admission (1 Youth or Adult, 13 years and above) – $15 for SAFRA Members and $20 for Guests
Website
This feature is brought to you by SAFRA Punggol.
Singapore's shores are teeming with wildlife we wouldn't usually notice. Getting to an intertidal zone during periods of low tide is the best way...
No visit to Seoul with the family is complete without a visit to South Korea's biggest theme park: Everland! We had an awesome day...
FEATURED LISTINGS