Over two weekends, starting from 8 September, experience the rich, cultural heritage of the Chetti Melaka community at the Indian Heritage Centre CultureFest 2018. Programmes lined up include performances, demonstrations and workshops on 8, 9, 15 and 16 September 2018.
Also known as Peranakan Indians, the Chetti Melaka culture incorporates Indian, Malay and Chinese influences. Their language, Chetti Creole, combines Tamil, Malay and Chinese dialects while their traditional dress reflects Javanese, Bugis, Achenese, Batak and Tamil fashions.
Indian Heritage Centre CultureFest 2018: Dive into Chetti Melaka Culture
At the two-weekend Indian Heritage Centre CultureFest 2018, festival-goers will be able to learn more about the Chetti Melaka's unique heritage through talks, workshops and performances.
Among the festival's programme highlights are a Kasut Manek (Beaded Slipper) Workshop on 9 September where participants will get to learn the intricate art behind traditional beaded slippers and a Joget Workshop on 15 September 2018 where workshop participants will learn how to dance the Joget alongside members of the Chetti Melaka community.
Those interested in the food of the Chetti Melaka can attend Cooking Demonstrations on 9 and 16 September which will introduce a variety of dishes unique to the community.
Chetti Melaka of the Straits: Rediscovering Peranakan Indian Communities Exhibition
Visitors to the Indian Heritage Centre can also view its first community co-created exhibition, Chetti Melaka of the Straits: Rediscovering Peranakan Indian Communities. This exhibition features approximately 175 artefacts and photographs that provide a window to the Chetti Melaka's culture and traditions.
Mr Saravanan Sadanandom, General Manager of the Indian Heritage Centre, said, "The story of the Chetti Melaka is captivating, and is a wonderful demonstration of how different cultures have been absorbed, adapted and mixed together to create something new and special. The Indian Heritage Centre has worked closely with the Peranakan Indian (Chitty Melaka) Association Singapore to co-create this exhibition and CultureFest, which celebrate the unique traditions, practices, cuisine and fashion that make up the tangible and intangible cultural heritage of the Chetti Melaka."
For more information, visit the Indian Heritage Centre website here.
More Stories on Deepavali: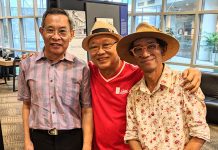 What happens when Uncles Love Monuments? They go sketching, of course. And now, the artworks of Francis Theo, Steven Seow and Tony Chua are on...
Big Wooden Horse's stage adaptation of award-winning author Oliver Jeffers' The Way Back Home makes its way to Singapore from 27 to 29 September...
FEATURED LISTINGS