It's the weekend before school reopens, so be sure to squeeze out every last drop of fun from it. There are heaps going on, from superpowered-up sand sculptures and giant lanterns to a science fiesta and mega toy and comic convention.
Till 16 Sept, 10 am to 9 pm
Siloso Beach, Sentosa
Don't miss this sandsational edition of Asia's largest sand festival, where the heroes of Marvel's cinematic universe are rendered in stunning detail by master sand sculptors. There are also Marvel-themed fringe activities and free workshops. Find out more.
6 to 24 Sept, 6 pm to 11 pm on Fri, Sat & Sun
Story continues below...
---
---
Story continues...
Gardens by the Bay
Enter a fantastical world of mythical creatures and natural wonders at this celebration of the Mid-Autumn Festival. See huge lantern displays, catch cultural performances, try out traditional games and more. Details.
7 to 8 Sept
one-north
Immerse yourself in the latest that science and technology has to offer through interactive displays, educational tours and fun workshops for the family. Learn more.
8 to 9 Sept
Singapore Sports Hub
Held in conjunction with Sports Hub Community Play Day, this cultural fun-and-play event offers visitors the chance to experience the many aspects of Japan such as its food, arts, traditions and pop culture. More info.
8 to  9 Sept
Victoria Concert Hall
Telling a magical story about music, enchantment and spells, this performance by the Singapore Symphony Orchestra is a wonderful introduction to classical music for the young. Find out more.
8 to 9  Sept
Marina Bay Sands Expo & Convention Centre
This pop culture extravaganza returns with more spectacular cosplay pagaentry, exciting meet-and-greets with artists and creators, and cool performances. Details.
8 Sept, 6:30 pm to 10 pm
New Bridge Road & Eu Tong Sen Street
See Chinatown come alive in a blaze of lights at this opening ceremony and street light-up which kicks off the annual Mid-Autumn celebrations. Look forward to a dragon dance, Chinese cultural performances and a grand fireworks finale. More info.
From 1 Sept
ArtScience Museum
This popular gallery's lineup of interactive and digital artworks has been refreshed and expanded from 15 to 19, offering visitors even more fun and dazzling experiences. Learn more.
If you're expecting, chances are you've been alerted to the value of your soon-to-be newborn's cord blood. Where cord blood was once discarded with...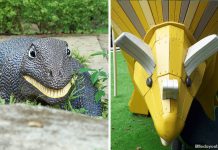 Surrounded by residential apartment blocks, Fu Shan Garden at Woodlands is a typical neighbourhood park, except that it holds a menagerie of dinosaurs, lurking...
FEATURED LISTINGS