Sandcastles on steroids, Singapore's own "comic-con", a weekend family festival and much more lie in store for the September 2018 school holidays in Singapore and we've got your guide to all the best of what is taking place around Singapore.
What's On During the September School Holidays 2018
It's amazing the number of activities and events that can be packed into a single week of vacation time. With free events like Sentosa Sandsation: MARVEL Edition and a Family Fest to bright lanterns lighting up the night, there are plenty of family-friendly activities taking place during the one-week of vacation time.
There are also plenty of fun workshops and activities during the one-week term break. These include drone-flying workshops, a Secret Agent Kidz Camp and more. Or, looking ahead, you can also sign up as a family for a charity swim coming up in October 2018.
Those who are travelling may also enjoy these travel tips for flying on low-cost carriers or travelling with baby for the first time.
Little Day Out's September 2018 School Holiday Guide
Get your FREE handy guide to the myriad of fun events, activities and things to do in Singapore during the September 2018 school holidays below.
Download Little Day Out's September 2018 School Holiday Guide now!

For even more events, visit Little Day Out's Amazing List of September School Holiday Activities 2018 for Families.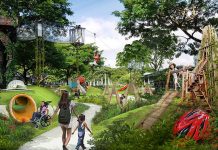 There are plans to "Bring Back the Orchard" along Singapore's Orchard Road, with a revamp of Istana Park, enhancements to Fort Canning Park and...
When anyone mentions parks in Jurong, the park that immediately comes to mind is the one next to the lake. However, there is another...
FEATURED LISTINGS