SAFRA Swim For Hope returns for its 8th edition, happening from 12 – 14 October 2018, at four different SAFRA clubs – SAFRA Jurong, SAFRA Toa Payoh, SAFRA Yishun and SAFRA Tampines!
Last year's Swim For Hope saw the participation of more than 3,000 swimmers, whom have all come together to do their part and support a good cause.
Introducing a brand new Junior Category (suitable for children between ages 6 to 12 years old) – for our young swimmers to join and do their part for charity! As per previous years, the Open Category and Parent-and-Child Category are also available.
All proceeds raised will be donated to the Association for Persons with Special Needs (APSN), Singapore Children's Society and Singapore Armed Forces (SAF) Care Fund.
---
Story continues below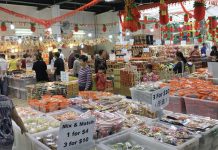 Want to know where to get superb CNY bargains? We uncover where the aunties shop for their festive goodies! Don't let the distance deter...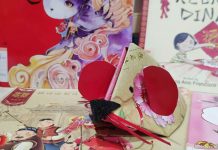 Dong dong chang! Right on the heels of Christmas is another important season for the Chinese – the Lunar New Year, of course. Remembering...
---
Be part of us today!
Making Waves for Better Lives
Swim For Hope is an annual charity swim event that debuted in 2011 at SAFRA Tampines. By 2014, the well-received fundraiser was expanded to five SAFRA clubs; and then extended to three days the following year. A parent-and-child category was introduced in 2016, encouraging more children below the age of 13 to join and do their part for charity.
With the launch of our new Junior Category (suitable for children between ages 6 to 12 years old) this year, we aim to encourage more children to kick-start a healthy lifestyle while promoting the spirit of giving from a young age.
Participants can choose their two-hour time slot at their preferred club (subjected to availability) and swim as many laps as they wish. There is no minimum number of laps required and participants are encouraged to swim according to their best capability. Swimmers may rest anytime during the two-hour time slot as they deem fit.
Not sure how you can contribute to charity? Simply by registering for the event! All proceeds garnered will be wholly donated to our beneficiaries and swim as many lap as you wish to contribute to the pool of funds as every lap counts into unlocking our milestone mechanism!
| | |
| --- | --- |
| No. of Laps | Donation Amount (S$) |
| 50,000 | $25,000 |
| 100,000 | $50,000 |
| 150,000 | $75,000 |
| 200,000 | $100,000 |
| 250,000 | $125,000 |
| 300,000 | $150,000 |
| 350,000 | $175,000 |
| 400,000 | $200,000 |
Participants can expect to bring home an exclusive Swim For Hope goodie bag and event tee. All swimmers will also receive a club finisher medal upon successful registration for the respective clubs.
What's more? For each category, we will be presenting exclusive prizes and trophies to the top 3 swimmers in recognition of their amazing achievements.
Cannot swim? Don't fret as you can also be part of this meaningful event as our volunteer!
Why should you join us?
| | |
| --- | --- |
| » | Having fun while giving back to the community in an invaluable and rewarding way. |
| » | Limited edition volunteer tee |
| » | Meals and refreshments |
| » | Certificate of appreciation |
| » | CIP hours (approximately 10 hours if required) |
| » | Able to use this experience to jump start your events or social service career! |
For more information or to register as our volunteer, please email us at swim4hope@safra.sg today!
Registration for SAFRA Swim For Hope 2018
Registration for SAFRA Swim For Hope (www.safra.sg/s4h) is now open. Those who sign up for 3 or more time slots will be entitled to receive a limited edition Swim For Hope 10L dry-bag.
Limited slots available, availability at each clubs is based on first-come first-served basis. Join us for some splashing fun while giving back to society!
For more information, please email us at swim4hope@safra.sg.
This feature is brought to you by SAFRA.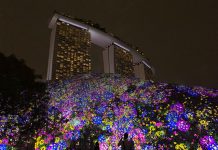 Future Together at Gardens by the Bay, a digital art exhibition, caps off the Singapore Bicentennial commemorations with interactive installations that encapsulate the hope...
As parents, we want to give Baby the best care we can afford. But how can we be sure that we're making the right...
FEATURED LISTINGS