The Republic of Singapore Airforce will be bringing its Golden Jubilee celebrations to the Marina Barrage on Saturday, 11 August, and Sunday, 12 August, with the RSAF50@Marina Barrage event.
Over two days, members of the public can look forward to aerial displays and flypasts where they can see more than 20 RSAF's aircraft in action.
RSAF Aircraft in Action
Two aerial displays will be held at 10 am and 2.30 pm on both days. Each aerial display will last about 30 minutes and feature various segments.
During the Sequential Flypast, 19 RSAF combat aircraft and four Singapore Youth Flying Club trainer plains will perform a flypast over the Marina Barrage in five different formations.
The Helicopter Aerial Display will see a pair of RSAF AH-64D Apache attack helicopters perform 10 aerial manoeuvres for the crowds.
There will also be a Fighter Aerial Display where an F-15SG in RSAF50 livery and two F-16C planes will perform 18 aerial manoeuvres.
Members of the public can also look forward to seeing five F-15SG fighter planes in the Finale Bomb Blast.
RSAF50@Marina Barrage will also feature a photobooth where members of the public can wear a RSAF uniform and have their photo taken as memento of the day out.
Families for Life "Celebrating RSAF50" Picnic on Saturday, 11 August
On 11 August, 8 am to 4 pm, Families for Life will also be holding its "Celebrating RSAF50" Picnic at the Marina Barrage in conjunction with RSAF50@Marina Barrage.
This family-friendly event features activities such as parent-child bonding craft activities like making toy parachutes, straw rockets and paper aeroplanes.
Story continues below...
---
---
Story continues...
There will also be family art jamming and sand art activities, along with bouncy castles.
Families can join in the Families for Life Breakfast Picnic in the morning and also leave a message on a Family Time Pledge Wall.
RSAF50@Marina Barrage
Admission to RSAF50@Marina Barrage is free.
Members of the public are encouraged to wear blue to RSAF50@Marina Barrage to represent the skies which the RSAF defends.
Find out more about RSAF50@Marina Barrage and Families for Life "Celebrating RSAF50" Picnic.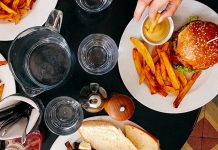 Parents everywhere love a good kid-friendly restaurant; throw in a "kids eat free" promotion and we'll be there on the double! Here are some...
After my recent - and very first - visit to the lush Far East Organization Children's Garden at Gardens By The Bay, I wondered...
FEATURED LISTINGS