---
---
Want to do something different with the kids this Children's Day? Take part in a children's parade down the Esplanade waterfront, following a giant in his journey of discovery! The parade marks the start of a weekend bursting with fun and imagination at Octoburst! 2018, Esplanade's annual children's festival, now in its sixteenth year. With engaging performances and activities, there is something for everyone, even children as young as six months old!
Children's Parade – A Giant Celebration For The Little Ones
Kicking off the festival on 5 October 2018 is the opening programme, H A N D S, in which a giant learns to make use of his senses to discover the world around him. Everyone is invited to join him in his exploratory journey where he satisfies his curiosity, encounters disappointments, and eventually finds acceptance and love.
Come dressed in blue or white, and march down the Esplanade waterfront – following the giant – in a spectacular display of puppetry and music together with family, friends, and people from all walks of life in Octoburst's inaugural Children's Parade!
"The idea of a parade is born out of our hopes to include everyone of all abilities and excite them to participate in one event together. We hope to open the Festival and Children's Day celebrations at Esplanade by embracing various performing arts forms and see them melt together in one big performance with everyone as performers," said Rachel Lim, Festival lead of Octoburst! 2018.
Spotlight On Inclusivity
This emphasis on inclusivity is carried through the programme, alongside the values of friendship and kinship. In fact, three of the shows are non-verbal performances with small audience capacities, making them friendly to younger kids and children with special needs.
Blisko
Created for children six months to three years old, Blisko has travelled from home ground Poland to Italy, Ireland and Norway, before arriving in Singapore for Octoburst! 2018. With a small cast of two dancers and beautifully simple props, this non-verbal performance invites you to come closer, peel away layers and investigate how nature reveals secrets about our world and our relationships within it.
Upside Down
What happens when two people previously living in separate spaces and holding different points of view are brought together by a common goal – to find a missing cat? One- to four-year-olds will be fascinated by a visually dynamic show, where drawings on paper are used to bring the story of Upside Down to life, without the need for words!
This multi-awarded show from Italy has been performed widely in countries ranging from France, Switzerland and Finland to China, South Korea and Japan.
A Square World
A Square World is a touching story about three friends whose usual routine is disturbed when an unexpected change affects one of them. They decide to redefine the rules of their square world so that everyone can have fun together again.
Performed in an endearing and funny manner, this non-verbal show from the UK is perfect for children from three to six years old. Not only will they enjoy the imaginative presentation, they will also discover the beauty of friendship and the importance of inclusiveness.
Dance, Dance, Dance
Besides theatre, Octoburst! 2018 also brings to young audiences the magic of dance.
Dance Appreciation Series: Introduction to Sleeping Beauty
Every child would have heard the story of Sleeping Beauty, about a princess who wakes up from a 100-year sleep with a kiss from a charming prince. Now experience this timeless classic through a ballet performance by the Singapore Dance Theatre, suitable for young children two years old and up.
PARTY
If DJs, lights and music are more your thing, join in the PARTY, an interactive performance from Germany that lets the audience and performers dance together. Recommended for kids from six to ten and their parents, PARTY is your chance to let loose, be yourself, and just enjoy the moment – the perfect stress-relief!
Make The Children's Day
With such inspiring performances and activities at Octoburst! 2018, children will have a day, or rather a weekend, to remember!
Click here for more information on Octoburst! 2018.
---
Octoburst! 2018 at Esplanade – Theatres on the Bay
Children's Parade & performance
Date: 5 Oct 2018, Fri, 10.30 am
Starting point: Esplanade Concourse
Ticket Price: FREE
Be among the first 500 to register for this free event to receive a limited-edition Octoburst! souvenir. Dress in blue or white to be part of the parade. For more fun, you can make a special puppet or musical instrument to bring along too! Visit this page for registration, puppet or music instrument craft kit and parade updates.
Performance
Dates: 6 & 7 Oct 2018, 5 pm
Venue: Esplanade Outdoor Theatre
Ticket Price: FREE
Craft Activity
Dates: 5 Oct 2018, 9.30 am – 6 pm; 6 & 7 Oct, 11 am – 6 pm
Starting point: Esplanade Concourse
Ticket Price: FREE
Dates: 5 Oct, 2pm & 4pm; 6 Oct, 11am, 2pm & 4pm; 7 Oct, 11am & 2pm
Venue: Esplanade Recital Studio
Ticket Price: $25
Recommended for children 6 months – 3 years old
Dates: 5 Oct, 11 am & 2 pm; 6 Oct, 3.30 pm & 5.30 pm; 7 Oct, 11 am
Venue: Esplanade Theatre Studio
Ticket Price: $25
Recommended for children 1 – 4 years old
Dates: 5 Oct, 5pm; 6 Oct, 10.30 am & 1 pm; 7 Oct, 2 pm & 5 pm
Venue: Esplanade Theatre Studio
Ticket Price: $25
Recommended for children 3 – 6 years old
Dates: 6 Oct, 1 pm & 4 pm
Venue: Esplanade Concert Hall
Ticket Price: $14
Recommended for children 2 years old and above
Dates: 5 Oct, 4 pm & 7 pm; 6 Oct, 2 pm & 5 pm
Venue: Esplanade Annexe Studio
Ticket Price: $20 per person (This is a parent-child event and tickets are sold in pairs or for package of three)
Recommended for children 6 – 10 years old
Click here to see the list of free events and activities taking place at Octoburst!
This feature is brought to you by Esplanade – Theatres on the Bay
---
GIVEAWAY: Win Tickets To Octoburst! – A Children's Festival 2018 At Esplanade
Now, in conjunction with Octoburst! 2018, Little Day Out is giving away:
A pair of tickets for 1 parent and 1 child to
Blisko, 7 October, 2 pm, Esplanade Recital Studio
and
A pair of tickets for 1 parent and 1 child to
Upside Down, 5 October, 2 pm, Esplanade Theatre Studio
For a chance to win tickets to either tickets to Blisko or Upside Down, all you have to do is to answer a simple question below.
Share this Facebook post to double your chances of winning.
Submit your answer by Sunday, 16 September 2018 to participate in this giveaway.
---
This contest has closed. Congratulations to Jessie Goh! You're the winner!
---
Meet Playpoint's Playground designer, Aryen Liaw. Her job involves coming up with creative concepts, researching playground equipment and creating fun and safe spaces to...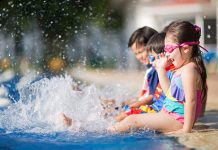 Even if you have no intention of nurturing your child to become the next Joseph Schooling, swimming is a life skill that is very...
FEATURED LISTINGS