Tokyo Disneyland Resort offers Disney fans an immersive experience at the "happiest place on Earth". For children, it is a magical place where they get to see and experience their favourite Disney characters like never before. It can often be the highlight of a trip to Tokyo and take up a day or two of your travel itinerary.
For those who are planning a visit to Tokyo Disneyland Resort, here are some useful things to know about this mega family-friendly attraction in Japan.
---
What is at Tokyo Disneyland Resort?
Tokyo Disneyland Resort is an all-encompassing "city" in itself. The two headlining attractions are the Tokyo Disneyland and Tokyo DisneySea themed parks.
In addition, the resort area is also home to three Disney Hotels – Tokyo Disneyland Hotel, Hotel MiraCosta, and Disney Ambassador Hotel – as well as six official partner hotels run by chains such as Hilton and Sheraton.
There is also the Ikspiari shopping mall, within Tokyo Disneyland Resort.
---
Getting Around Tokyo Disneyland Resort
You will be spending most of your time at either Tokyo Disneyland or Tokyo DisneySea. However, if you need to get around Tokyo Disneyland Resort, you make use of the Disney Resort Line monorail.
---
Story continues below
From a distance, it looks as if a majestic whale is breaching the surface under the shadow of the ArtScience Museum. However, upon closer...
Guess who is heralding Christmas at Bedok Point this year – the Minions! Join Kevin, Stuart and Bob from 19 to 24 November for...
---
This monorail train does a loop around Tokyo Disneyland Resort and has four stations.
The Resort Gateway Station is located next to the JR Maihama Station. Visitors who are arriving at Tokyo Disneyland Resort by train from other parts of Tokyo will need to alight at the JR Maihama Station. From this station, they can then take a short walk to the Resort Gateway Station and transfer to the Disney Resort Line.
The stations on the Disney Resort Line are:
Resort Gateway Station – Connects to the JR Maihama Station, Ikspiari shopping mall and Disney Ambassador Hotel
Tokyo Disneyland Station – Access to Tokyo Disneyland and the Tokyo Disneyland Hotel.
Bay Side Station – Access to the official partner hotels.
Tokyo DisneySea Station – Access to Tokyo Disney Sea and Hotel MiraCosta
It is also possible to walk from the JR Maihama Station to Tokyo Disneyland without having to take the train.
From the hotels within Tokyo Disneyland Resort, you can also hop on a Disney Resort Cruiser bus to get from the hotel to Bayside Station.
---
Quick Overview of Disney Hotels at Tokyo Disneyland Resort
For the complete Disney experience, you would want to stay at one of the Disney Hotels at Tokyo Disneyland Resort. Here is a quick overview of the three Disney hotels at the resort.
Tokyo Disneyland Hotel – This is an elegant hotel decorated with old-world charm. It is directly opposite the Disneyland Park entrance. There are over 700 rooms at the Tokyo Disneyland Hotel including theme-decorated rooms.
Hotel MiraCosta – The Hotel MiraCosta is located at Tokyo DisneySea. It is decorated in the Art Deco style and overlooks the atmospheric Tokyo DisneySea. There are three types of rooms, the Venice side, Porto Paradiso side and Tuscany side rooms. The first two types of room look into Tokyo DisneySea.
Disney Ambassador Hotel – This Tokyo Disneyland Resort hotel has over 500 rooms and offers the charm of an art deco style interior. Besides the standard rooms, themed rooms include Chip 'n Dale, Donald Duck and Mickey Mouse rooms. It is located next to the Ikspiari shopping mall.
---
Ikspiari Mall
When staying for an extended period of time at Tokyo Disneyland Resort or if you are simply looking more food options beyond what the hotels and theme park offer, head to Ikspiari Mall. This shopping mall at the Tokyo Disneyland Gateway has a variety of cuisine choices including Western, Italian, Asian and, of course, Japanese. There is also a food court and supermarket in the basement.
There is also shopping around the mall, including a Disney store too, of course.
It also has a cinema, Cinema Ikspiari, which is decorated in the style of the golden age of Hollywood.
---
What is Close to Tokyo Disneyland Resort
If you intend to venture out from Tokyo Disneyland Resort, another place that you can visit that are close by is Tokyo Sea Life Park. This aquarium is located just one station away from JR Maihama station at Kasai-Rinkai Park. The park also has a large Ferris wheel.
Another shopping mall close to Tokyo Disneyland Resort is LaLaport Tokyo Bay. This large mall has plenty of eateries and shopping options too. Kids may be excited by the Pokemon Center TOKYO-BAY store.
Forget about Superman, Ironman or Captain America. When it comes to Christmas season, the greatest superhero of all is… drumroll please… Santa! After all,...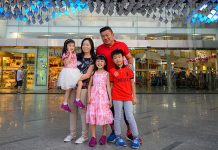 If you are a parent with young children, you would probably have come across the 3WheelingTots YouTube channel. The channel has more than 7,000...
FEATURED LISTINGS