To mark its 125th anniversary, JOHNSON'S Singapore has launched the "Social Snaps That Help" campaign in collaboration with KK Women's and Children's Hospital.
Social Snaps That Help: Donate a Photo
From June to August 2018, for every photo shared by Singaporeans on Instagram with the hashtag #BetterWorldForBabies, JOHNSON'S will donate $1 to the KKH Health Fund. The campaign's end goal is to raise up to a maximum of $20,000.
The pictures shared with #BetterWorldForBabies on Instagram can be of anything, for example pictures of family members or motivational pictures.
KKH Health Fund
The KKH Health Fund aids needy patients who need financial assistance for medical treatments and also supports education, research and disease prevention in the areas of women's and children's health in Singapore. The KKH Health Fund disburses over $2 million to more than 600 women and children each year.
Professor Alex Sia, Chief Executive Officer, KK Women's and Children's Hospital, said, "Often times, stress from financial difficulties can affect the recovery of some patients. At KK Women's and Children's Hospital, we strongly believe that every woman and child deserves good health. This is where our KKH Health Fund can help to provide assistance to ease their financial burden, allowing them to focus on their recovery and getting back on their feet. This is a meaningful campaign, which we hope will receive public support."
Get more information here.
There are plenty of festive events and activities taking place in Singapore as we approach the Year of the Pig. For those looking for things to...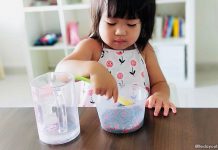 Children of all ages benefit from sensory play which often stimulates a few - if not, all - of the senses at any one...
FEATURED LISTINGS