Shoebills, prehistoric-looking birds, are back at Jurong Bird Park.
Shoebills at Jurong Bird Park
Jurong Bird Park first displayed Shoebills in 1995. The last of those specimens died three years ago in 2015. Now, Jurong Bird Park has received a new pair of Shoebills from Qatar, making it the only Southeast Asian zoological institution to showcase the species.
The pair of Shoebills can be viewed at Jurong Bird Park's Wetland exhibit. These stork-like birds with bluish-grey plumage can reach a height of 1.5 metres and have an impressive wingspan of up to 2 metres.
Named for their large, distinctive shoe-shaped bill, Shoebills are unmistakable in appearance. Its bill can grow to over 20 cm in length and has a sharp hook at the end for capturing prey.
East African Native
The species is also known by the scientific name Balaeniceps rex. It is native to tropical East Africa where it makes its home in freshwater swamps.
Shoebills can live up to 35 years in the wild and their diet consists mainly of fish.
It moves slowly and can stay still for long stretches of time. However, when it spots its prey, it can strike quickly to fish it out of the water.
Shoebills are classified as Vulnerable under the International Union for the Conservation of Nature (IUCN) Red List of Threatened Species. It is estimated that there are 5,000 to 8,000 shoebills in the wild where they face threats such as habitat loss and illegal wildlife trade. There are only 30 of these birds under human care.
Jurong Bird Park's new Shoebills are an 11-year-old male and 17-year-old female. Jurong Bird Park hopes to breed the pair and, in doing so, help better the understanding of the biology of these birds.
So far, there have only been two recorded cases of successful breeding of the shoebills under human care.
Birds of the Wetlands
Story continues below...
---
---
Story continues...
The Shoebills share Jurong Bird Park's Wetlands exhibit with other wetland birds like the Northern Bald Ibis, Roseate Spoonbill and Hammerkop.
There are plenty of festive events and activities taking place in Singapore as we approach the Year of the Pig. For those looking for things to...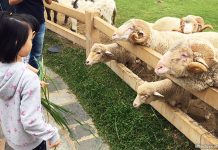 Sprinkled with quaint Italian-inspired villages, wineries with vineyards and flower fields against a mountainous backdrop, the region of Khao Yai near Bangkok, Thailand, offers...
FEATURED LISTINGS