Arts, music and nature take the spotlight this weekend, with various exciting events that make for a fun day out for the whole family.
7 July, 10 am to 2 pm
Gateway Theatre
To mark its first birthday, Gateway Theatre has lined up a fun and colourful birthday bash complete with children's theatre performances, a giant balloon-and puppet show, art and crafts and more. Details.
8 July, 6 pm to 7 pm
Story continues below...
---
---
Story continues...
Singapore Botanic Gardens
Performed by 150 young violinists  and cellists ranging from four to 16 years old, this concert presents a repertoire of well-loved favourites that everyone can enjoy such as Vivaldi's Four Seasons. More info.
Till 5 Aug
MasterCard Theatres at Marina Bay Sands
You've seen Disney's animated hit, now catch the story of Simba the lion in this stage extravaganza that has wowed over 90 million people around the world and picked up more than 70 major awards. Learn more.
Till 30 Sept, 10 am tp 7 pm
ArtScience Museum
Dutch sculptor Theo Jansen's famous wind-powered moving creatures make their way to Southeast Asia for the first time. Don't miss these magnificent feats of engineering, design and art. Find out more.
2 July to 5 Aug, 7:30 pm to 12 am
Singapore Zoo
Experience the rainforest and all its creatures like you never have before in this late-night adventure. There's also an immersive storytelling element, with a roaming Creature Crew inviting you to step into their enchanting world. Details.
7 July, 6 pm to 7:30 pm
Singapore Botanic Gardens
Celebrating the Botanic Gardens' third year anniversary as a UNESCO World Heritage Site, this concert by the JASSO brings you original compositions from local jazz composers as well as new arrangements of jazz classics. More info.
8 July, 6 pm to 8 pm
Resorts World Theatre
Presented by the youth members of the Singapore Red Cross, this fundraising concert aims to raise awareness of the local services provided by the Red Cross while celebrating local talent. Find out more.
7 to 8 July, 10 am to 8 pm
Suntec Singapore Convention and Exhibition Centre
Bringing growers, producers and the community together, this inaugural two-day festival is the largest farmers' market located right in the city centre. More info.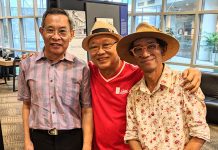 What happens when Uncles Love Monuments? They go sketching, of course. And now, the artworks of Francis Theo, Steven Seow and Tony Chua are on...
Big Wooden Horse's stage adaptation of award-winning author Oliver Jeffers' The Way Back Home makes its way to Singapore from 27 to 29 September...
FEATURED LISTINGS