Character cafes in Singapore allow fans to enjoy dining in cute and adorable settings with their favourite characters. These themed cafes in Singapore feature both food and décor inspired by the characters, allowing diners to experience the characters in different ways.
At these character cafes in Singapore, you will find food that has been fashioned to look like cartoon characters. Menu items also provide an inside take into the world of the characters. A must at any of these themed cafes in Singapore is a spot where patrons can take an IG-photo, often with a 3D-version of the characters.
For those who love all things cute, here are some themed cafes in Singapore to check out.
Character Cafes in Singapore
---
Hello Kitty Orchid Garden
Located at Changi Airport Terminal 3, Hello Kitty Orchid Garden provides a local twist to Sanrio's popular cat with no mouth. This character cafe in Singapore is decorated with an orchid theme – a way to welcome those who see it at the airport's Arrival Hall. Menu items include breakfast items such as the Leaning Tower of Kitty and Kitty Meets Benedict while mains include items like Land of the Rising Kitty and Take a Bow.
---
Story continues below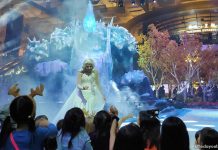 Enjoy a dazzling light show, experience snow in the tropics, meet your favourite Frozen characters – Anna, Elsa, Olaf, and embark on an obstacle...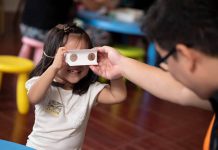 Scratching your head about what to do with kids during the school holidays? Want to head out as a family without breaking the bank?...
---
Where: Singapore Changi Airport, Terminal 3, Arrival Meeting Hall Central, #01-22
Website
---
Gudetama Café
Another Sanrio character with a character café in Singapore is Gudetama, the lazy egg. This popular themed café at Suntec City serves up "breakfasty" dishes like toast, sausage, bacon and *ahem* eggs, along with pizza and waffles.
Where: 3 Temasek Boulevard, Suntec City, #01-361, Singapore 038983
Website
---
My Melody Café
Sanrio characters are obviously a popular choice when it comes to character cafes in Singapore. The décor at My Melody Café, located right next to Gudetama Café, is decidedly pink. Menu items include the equally pinkish Princess Bunny curry rice dish, eggs benedict and cute desserts like Merry-Donut-Go-Round.
Where: 3 Temasek Boulevard, Suntec City, #01-363, Singapore 038983
Website
---
Cartoon Network Café
Dine on dishes inspired by Cartoon Network characters like Ben 10, We Bare Bears and the Power Puff Girls at the Cartoon Network Café located in Punggol's Waterway Point. On the menu are dishes like pasta and sandwiches. For dessert, a decadent treat is its milkshake topped off with a donut.
Where: 83 Punggol Central, Waterway Point Mall, B1-12
Website
---
Central Perk
Fans of the 90's sitcom Friends can relive those memories again at Central Perk Singapore. Fashioned to look like the fictional New York café, this themed café in Singapore has mains, pizza and pastas on the menu, many named after the characters from the show.
Where: 1 Magazine Road, Central Mall, #01-01, Singapore 059567
Website
---
DC Comics Super Heroes Café
Superman, Batman and Green Lantern are some of the characters that lend inspiration to the DC Comics Super Heroes Cafes. Light bites on the menu include Aquaman's Great Salmon Goujon and The Penguin's Squid Squad. Bite into the Superman burger or Batman's truffle pasta for the mains. There is also a kids menu for those 12 and under.
Where: L1-03, Bay Level, The Shoppes at Marina Bay Sands
Website
The Boys' Brigade Share-a-Gift 2019 project started off on Saturday, 7 December, with 350 volunteers heading out to deliver food hampers to beneficiaries around...
Singapore's shores are teeming with wildlife we wouldn't usually notice. Getting to an intertidal zone during periods of low tide is the best way...
FEATURED LISTINGS