Looking for a unique experience for your next meal? Dive into these dining spots which provide a mix of good food and water-themed fun.
Sandbank
920 East Coast Parkway, #01-28/32 Parkland Green, Singapore 449875
sandbank.com.sg
Sandbank has a casual, family-friendly feel with a view of the waters off East Coast Park. Its menu of international favourites includes pastas, pizzas, burgers and mains such as fish and chips. Sandbank has a 15-metre plunge pool which spans the front of the outlet – a feature that will no doubt provide the kids with amazing, splashing fun.
Smith Marine Floating Restaurant
Pulau Ubin Coastal Waters. Take a ferry from Changi Point Ferry Terminal smithmarine.com.sg
Catch a fish in the middle of the sea next to Pulau Ubin and have it freshly cooked for you at Smith Marine, the modern kelong restaurant off the coast of Changi. This uniquely located restaurant provides an opportunity for family and friends to enjoy the sea breeze, laid-back vibes and fresh seafood. Reservations are a must. Read more.
Royal Albatross
8 Sentosa Gateway, Singapore 098269
tallship.com.sg 
---
Story continues below
Go prehistoric at Singapore Zoo during the November-December 2019 school holidays at Singapore Zoo with a Mammoth Adventure Back in Time. Enter the Valley of...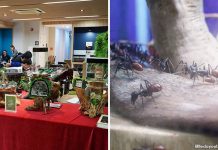 After a visit to the Singapore Ants Exhibition, you may never be able to look at the ants crawling around your home in the...
---
Dine under the four masts of the Royal Albatross, a wooden vessel that exemplifies the romance of the age of sail. The 47-metre-long tall ship's galley is open on selected days of the week when docked and welcomes visitors with a hearty menu of starters, pizzas, mains and desserts. A kids menu is available for little ones as well.
Wave House Sentosa
Siloso Beach, Sentosa
wavehousesentosa.org
Hang out by the beach and dine at Wave House Sentosa. Its restaurant serves a selection of appetizers, pastas, seafood and mains. You can get a view of riders carving up the waves on the Flowrider at the same time – and perhaps have a go at it yourself too.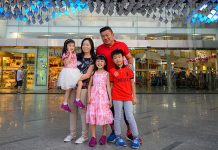 If you are a parent with young children, you would probably have come across the 3WheelingTots YouTube channel. The channel has more than 7,000...
Forget about Superman, Ironman or Captain America. When it comes to Christmas season, the greatest superhero of all is… drumroll please… Santa! After all,...
FEATURED LISTINGS