---
Stand a chance a pair of tickets to two Flipside experiences. Scroll down to the bottom of the article and take part now!
---
From 25 May to 3 June 2018, Esplanade Presents Flipside 2018 invites you to 'Play, Imagine and Innovate' your way through 10 days of quirky and unconventional arts programmes.
Featuring music, puppetry, physical theatre, comedy and visual arts that intersect in surprising ways, Flipside 2018 is set to delight festival-goers with a slate of ticketed and free activities by local and international artists. These promise to be a feast for the senses and tons of hands-on fun.
All Things Sound!
At Esplanade's Flipside 2018, be prepared to immerse yourself in the world of sound through quirky and hands-on experiences.
The Sound Maze
Featuring 10 unique musical instruments with names like "Pendulum" and "Peacock", The Sound Maze is an experiential sound installation at the Esplanade Annexe Studio that is not to be missed. These intriguing sound sculptures are the creations of inventor-composer Paul Dresher and builder-designer Daniel Schmidt from USA.
Participants of the Sound Maze will first receive a 20-minute 'ear-opening' orientation of the instruments by inventor Paul himself. This will be followed by a time to freely explore and get lost in a canvas of sound at this fantastic sonic playground.
The Sound Maze is a ticketed event and suitable for all ages. Tickets are $12 if booked in advance or $18 at the door. So, be sure to book your tickets early!
Sensing the Dark
Heightened your sense of hearing with a one-of-a-kind musical experience…in the dark!
Sensing the Dark is a special Flipside 2018 commission that will treat audiences to a journey of music and voices in a darkened room.
Put together by a team of Singapore artists, Sensing the Dark explores darkness as a rejuvenating space and incorporates original and familiar music together with subtle lighting effects.
"Having the concert in the dark invites us to question the necessity of being figuratively 'blind' especially in our world today, where we're so constantly bombarded with information that it dulls our senses and our sensitivity," explains Julian Wong, Sensing the Dark's Music Director.
Story continues below...
---
---
Story continues...
"When there is no distraction and no vanity, that voice is authentic and honest; it cannot conceal or disguise," says Wong. "We hope to connect heart-to-heart with the audience through a work that is life-affirming."
Sensing the Dark is a ticketed performance recommended for audiences 10 years old and above.
Puppets Alive!
It won't be just your auditory senses tickled at Flipside 2018. The festival offers plenty for the visual- and kinesthetic-inclined too.
Dans l'Atelier & Chantier Frigolite
Ever wondered what it takes to bring a puppet to life? Be enlightened at Dans l'Atelier & Chantier Frigolite.
Dans l'Atelier (which means "In the Workshop") & Chantier Frigolite (which means "Styrofoam Workshop") is a series of performances and workshops by award-winning Belgian puppet theatre Tof Théâtre.
In the words of its creator Alain Moreau, it is "a short crazy show, a sort of preamble, after which we invite children and adults to play puppets with us very seriously".
The 20-minute Dans l'Atelier performance chronicles the setbacks of a puppet-in-the-making which eventually decides to finish itself!
The performance is followed by an optional – but highly recommended – hour-long Chantier Frigolite where you can take a stab at making a styrofoam puppet of your own to bring home.
Dans l'Atelier & Chantier Frigolite is a ticketed event for those aged seven and above.
Urashima Taro
Puppets also take centre stage in Rouge28 Theatre's contemporary version of the ancient Japanese myth Urashima Taro. This solo performance tells the tale of a poor fisherman seduced by a mysterious and cruel turtle-woman.
Urashima Taro fuses stunning visuals with human-sized puppets and paper theatre to tell a tale of lust, obsession, betrayal and loss. It is a ticketed performance recommended for audiences aged 13 and above only due to the presence of some mature content.
More Ways to Play, Imagine and Innovate
Over on the Courtyard Green, you won't be able to miss the sight of a giant puppet suspended within a network of ropes waiting to come alive
String Symphony is a creation of Australia's Spare Parts Puppet Theatre. The interactive sculpture is hand-woven from more than a kilometre of rope and illuminated by LED lights.
Working together, festival-goers can turn puppeteers and animate the giant puppet against a backdrop of lights and music.
The Esplanade Concourse will play host to GRIDI, quite possibly the world's largest music sequencer. The interactive installation is the brainchild of music producer Yuvi Gerstein who wanted to create a way for non-musicians to compose music in an intuitive and physical way.
By placing transparent balls at different spots on GRIDI, festival-goers can start to compose music. Due to the size of the grid, they will have to co-operate with others, listening to each other and making music that makes sense together.
Also at the Concourse will be Japanese comedy artist Yosuke Ikeda, whose art defies simple categorisation. With a style that blends mime with graphic and acoustic arts, Ikeda will treat audiences to one of his well-known pieces Hello Goodbye, based on the famous song of the same name by the Beatles. This delightful and surprising performance will keep Flipside festival-goers of all ages mesmerised.
Another family-friendly highlight on the weekends is Flipside's Circus Sundays which will feature the local circus arts community Bornfire. Pick up a few tricks in the Circus Games session. Then sit back and watch the experts show how it's done as they take to the Esplanade Outdoor Theatre stage in a performance featuring aerial acts, juggling and the Diabolo.
Flipside 2018 will also feature activities such as a giant knitting station, pop up creative technology projects and an after-dark backstage tour of the Esplanade, not for the faint-hearted!
Savour one or sample them all. Esplanade's Flipside 2018 promises plenty to spark the curiosity and ignite the imagination of adults and children alike.
Be sure to save the date!
Esplanade Presents Flipside 2018
Dates: 25 May to 3 June 2018
Venue: Esplanade – Theatres on the Bay
Ticketed Performances:
Dates: Fri, 25 May to Sun, 27 May 2018
Times: Fri: 7.30 pm & 9.30 pm; Sat & Sun: 2 pm, 4 pm & 6 pm
Ticket Price: $12
Recommended for ages four and up
Dates: Sat, 26 May to Tues, 29 May 2018
Times: Sat: 7.30 pm; Sun: 3 pm (includes a post-show talk) & 7.30 pm; Mon: 7.30 pm (includes a post-show talk); Tues: 3 pm (includes a post-show talk) & 7.30 pm
Ticket price: $35 (Sat 7.30pm, Sun & Tues 3pm); $28 (Sun-Tues 7.30pm)
Recommended for ages 10 and above. Admission for ages 6 and above only
Dates: Thu, 31 May to Sun, 3 Jun 2018
Times:
Performance only: Thu & Fri 5 pm & 7.30 pm; Sat & Sun: 2.30 pm & 5 pm
Performance & Workshop: Thu & Fri: 5pm; Sat & Sun: 2.30 pm & 5 pm
Ticket Price: $12 (performance only); $28 performance and workshop
Admission for ages seven and above only
Dates: Thu, 31 May to Sun, 3 Jun 2018
Times: Thu: 7.30 pm; Fri & Sat: 7.30 pm & 9.30 pm; Sun: 7.30 pm
Ticket Price: $38
Recommended for ages 13 and above. Admission for ages 10 and above only.
Concession pricing is available for students, NSFs & seniors. There are also discounts for Esplanade&Me account holders and PIP's Club Members.
Tickets are available from SISTIC.
Visit the Esplanade Presents Flipside 2018 website for a full list of events and activities.
This feature is brought to you by Esplanade – Theatres on the Bay.
---
Flipside 2018
Ticket Giveaway
Little Day Out is giving away a pair of tickets to two Flipside experiences.
Simply answer a question about Flipside 2018 at Esplanade – Theatres on the Bay and stand a chance to win either:
Two Tickets
to
Sound Maze
on
25 May 2018, 7.30 pm
at
Esplanade Annexe Studio
or
Two Tickets
to
Dans l'Atelier
on
31 May 2018, 7.30 pm
at
Esplanade Annexe Studio
Submit your answer by Sunday, 6 May 2018 to participate in this giveaway.
Double your chances of winning by liking and sharing this post on Facebook.
---
 The contest has just closed. Congratulations to Chia Mui Muar and Germaine Lim!
---
Usher in Chinese New Year 2019 at HarbourFront Centre with family-friendly activities, including LIVE character performances, meet-and-greets, colouring and interactive walls, craft activities and...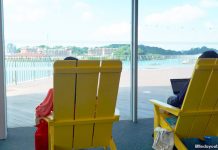 The new library@harbourfront, located within VivoCity shopping mall, brings the reading experience closer to the masses with its opening on Saturday, 12 January 2019. The...
FEATURED LISTINGS