If you have ever wondered if there were ever cows at Dairy Farm Nature Park, the answer is yes.
It was 1930 when the world's first tropical dairy farm was established at the base of Bukit Timah Hill. Originally, the area was earmarked for pig farming but after an outbreak of swine fever, Fred Heron, Managing Director of Cold Storage, decided that there was a need for high quality, fresh milk in Singapore and converted the area to a milk farm instead.
He brought in 24 Friesian cows to Singapore from Holland and Australia and started a dairy farm in the area.
Friesian cattle are a breed known for their dairy production. They are completely alien to the tropics and the Singapore dairy farm was an oddity that attracted a fair amount of worldwide attention.
---
Story continues below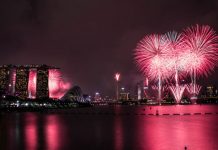 Have you got your New Year's Eve and New Year's Day 2020 plans all sorted? Another year (and decade) is soon gone, and we...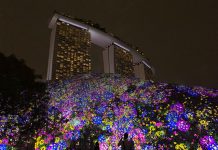 Future Together at Gardens by the Bay, a digital art exhibition, caps off the Singapore Bicentennial commemorations with interactive installations that encapsulate the hope...
---
Today, the cows are gone. Nonetheless, they still lend their name to Dairy Farm Nature Park.
Dairy Farm Nature Park was setup in 2009. Here are some of the things you can look forward to seeing at the nature park on a visit.
Wallace Education Centre
Occupying a former cowshed, the Wallace Education Centre serves two functions.
In one section of the Wallace Education Centre is the Wallace Education Learning Lab, a facility for students. At the other side of the Wallace Education Centre an interpretive centre which provides a historical perspective of the area's former use as a dairy farm.
You can also take pictures with two life-sized statues of the Friesian cows – one resting in front of the former cowshed and a calf peeking out from the building.
Wallace Trail
Close to the Wallace Education Centre is the 1 km long Wallace Trail. It is named for Alfred Wallace, a contemporary of Darwin. Wallace made several visits to the Malay Archipelago in his lifetime, collecting specimens for his collection.
You can choose to enter the Wallace Trail about midway between Dairy Farm Nature Park Carpark B and the Wallace Education Centre or pay a visit to the Wallace Education Centre first and then proceed into the Wallace Trail from a separate entrance nearby.
Singapore Quarry Wetland
Also located within Dairy Farm Nature Park is the Singapore Quarry Wetland. This is found closer to Dairy Farm Nature Park Carpark A, away from the Wallace Trail.
The Singapore Quarry Wetland at Dairy Farm Nature Park is a popular spot with birdwatchers. A viewing platform allows visitors to take in the splendid views of the water-filled former quarry.
Among the birds you may be able to spot at Singapore Quarry Wetland include kingfishers and dollarbirds.
Dairy Farm Loop – Alternative Way to Bukit Timah Hill Summit
If you find the usual route to the top of Bukit Timah Hill from Hindhede Road too crowded, or have a love for pushing yourself to the limit, try ascending Bukit Timah Hill from Dairy Farm Nature Park.
The Dairy Farm Loop connects Dairy Farm Nature Park to Singapore's tallest natural point. The entrance to the Dairy Farm Loop is close to Carpark B. First make your way to the Dairy Farm Hut and from there, choose one of two routes along the Dairy Farm Loop to Bukit Timah Hill's summit.
Be warned; this trekking route is classed as "Difficult"!
Dairy Farm Nature Park
Location: 100 Dairy Farm Rd, Singapore 679057
There are two carparks at Dairy Farm Nature Park, A & B.
Carpark A is closer to MOE Adventure Centre and Rail Mall. Carpark B is closer to the Wallace Education Centre and Wallace Trail.
The closest MRT Station is Hillview MRT Station. Take Exit A.
The season of giving is here! One of the best (and easiest) ways to show your love and appreciation to loved ones is getting...
Planning ahead for the November and December 2019 school holidays in Singapore? The year-end break is a wonderful opportunity for kids to try something...
FEATURED LISTINGS