Follow where the trail may lead as you embark on walks in Singapore. From the well-known to those that head off the beaten path, getting out and going for a walk is a great opportunity to unwind and recharge.
Here are some walks in Singapore that you can explore. Some are long and epic while other bite-sized and easy to conquer. All will provide an opportunity to experience the outdoors and nature in varying degrees.
Enjoy these nature trails and walks in Singapore!
20+ Nature Trails to Explore and Walks in Singapore
Imbiah Trail
Starting from Sentosa Nature Discovery, a former monorail station, this walk on Sentosa takes you through the forest of Mount Imbiah. Along the Imbiah Trail, you will pass by three waterfalls before winding up at the summit of Mount Imbiah.
Kampong Trail
At the base of Bukit Timah Hill is the Hindhede entrance of the of the Kampong Trail. This walk in Singpore will take you past remnants of an old kampong village and around the Rifle Range Road area.
Bukit Batok Nature Park Walking Trail
Look for nature walks in Singapore that have a bit of everything? Pay a visit to Bukit Batok Nature Park where the walking trail will lead you past secondary forest, to a disused quarry and even to a historic World War II site.
Bishan-Ang Mo Kio Trail
Take a walk through one of the largest parks in the centre of Singapore. Start off from Bishan-Ang Mo Kio Park's Dog Run and head down to the naturalised river. Follow along the course of the river and you will pass by landmarks such as Recycle Hill, the Riverside Gallery and various playgrounds.
Sentosa Coastal Trail
The Sentosa Coastal Trail is found on the north coast of Sentosa facing Singapore. A unique sight along this walking trail are totem poles which have been salvaged from the defunct Sentosa Ferry Terminal. The rocky shore is also a popular spot for seasonal migratory birds.
Changi Beach Park Walk
Take a walk in the far north east of Singapore at Changi Beach Park. Enjoy the gentle sea breeze as you take the 3.3 km walk from Changi Point to Changi Ferry Terminal.
Sungei Buloh Coastal Trail
Most visitors to Sungei Buloh Wetland Reserve find their way to the Buloh Tidal Ponds and take the Migratory Bird Trail around the wetlands. An alternative walking trail is the 1.3 km long Coastal Trail which leads from the Wetland Centre Plaza to the Visitor Centre. This stretches past various onion-shaped pods. For a change of view, cut through the 300-metre Forest Trail or 150-metre Mid-canopy Walk.
Lower Peirce Walking Trail
Located at Lower Peirce Reservoir Park is an easy 900-metre wooden boardwalk that makes its way through secondary forest. This is one of several walks in Singapore that skirt the forests of the Central Catchment Nature Reserve.
Siloso Trail
Make the walk up the Siloso Trail along a natural path to get to Fort Siloso. Alternatively, take a lift up to the Fort Siloso Skywalk where you soak in spectacular views before taking  the Siloso walking trail back down.
Sengkang Riverside Park
Sengkang Riverside Park is built around Sungei Punggol. This riverine park features a wetland and marshes that visitors can trek through while appreciating the natural landscape of the park.
Chemperai Trail
The Chemperai Trail consists of several boardwalks that run next to the waters at MacRitchie Reservoir. From the vantage point of this walking trail, you will be able to observe scenic views of the reservoir and you have the option of walking back along the through-forest Lornie Trail.
Sungei Cina Trail
There is more to Admiralty Park than the huge slide playground. At the northern end of the park is a trail that follows along Sungei Cina. One of the walks in Singapore that cross a variety of terrains, this trail makes its way through mangrove, grassland and forest environments.
Bedok Reservoir Walk
Take a walk around the waters of Bedok Reservoir along well laid out paths. Sights along the way include a playground, art installation and tranquil scenery.
Wallace Trail
Found at Dairy Farm Nature Park, Wallace Trail is an easy trek that passes through an area where a kampong was once situated. Nearby is the Wallace Education Centre where you can learn more about the history of the area.
Coney Island Park Trail
Take a walk along the rustic trails at Coney Island Park. Explore different habitats which include grasslands, mangroves and casuarina woods. Coney Island Park is a great place to enjoy a slice of nature and to catch views of Pulau Ubin.
Ancient History Trail
This is one of several walks in Singapore found at Fort Canning Hill. Along the Ancient History Trail, you can visit the archaeological dig area and site of Singapore's first botanical gardens. Other walks found at Fort Canning Park include the Colonial Heritage Trail and the Trees of the Fort Trail.
Berlayer Creek Mangrove Trail
Leading into towards Labrador Nature Reserve from the Labrador Park MRT, the Berlayer Creek Mangrove Trail provides a look at the riverine habitat along this mangrove area. From the boardwalk, you can carry on to two other walks in Singapore – the Bukit Chermin Boardwalk or head along the Labrador Coastal Walk.
Pasir Ris Park Walk
You can easily spend an hour or two exploring Pasir Ris Park on foot. Along the walking trails, you can expect to come across spots such as the Mangrove Boardwalk, Look-out Tower and Kitchen Garden.
Punggol Promenade to Lorong Halus
Take a walk along the water from Punggol Jetty towards Lorong Halus. Along the way, you will head past Coney Island Park. From Lorong Halus, you can make a U-turn back to Punggol Settlement or try an epic walk down to Punggol Waterway and back the long way around.
St John's Island Trail
This is probably of the hardest-to-get-to trails in Singapore. On St John's Island, you can learn more about the history of the island on the trail and get to learn about various heritage trees around the island.
Rainforest Trail
Situated within Singapore Botanic Gardens, the Rainforest Trail is a boardwalked trail where you can experience an ancient forest in the heart of Singapore's UNESCO world heritage site.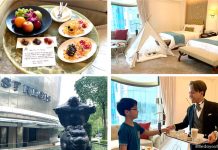 Right from the moment we arrived at The St. Regis Singapore, we were transported to a realm of old-world charm and graceful elegance. Beautiful...
Schools and Institutes of Higher Learning will implement full home-based learning from Wednesday, 8 April 2020, onwards. In addition, preschools and student care centres...
FEATURED LISTINGS