The Bugis+ shopping mall is known for its young, hip and trendy shops. However, hidden away on its rooftop is an enclave of old-school fun, Fish@Bugis+, an indoor prawning spot that also offers longkang fishing for kids.
Rooftop Prawning
Fish@Bugis+ can be found on the 7th floor rooftop of the shopping mall. A sheltered walkway leads out from the interior of the mall to the stand-alone unit where it is found.
To get prawning at Fish@Bugis+ you will need to approach the counter and rent a prawning rod.
Armed with the rod, you can then head over to the prawning ponds.
There are two prawning ponds at Fish@Bugis+ both of which are located indoors in air-conditioned comfort. The flip side to this is that there is a bit of the lingering smell from the ponds in the air, but it is something you can get used to.
The Business of Prawning at Fish@Bugis+
First, place the bait on the hook at the end of the line. At Fish@Bugis+, chopped up pieces of chicken heart are provided as bait.
Attached to the prawning line is a little, brightly-coloured buoy. Throw the hook and line into the water and keep an eye on the buoy. If the buoy dips downwards, a prawn is nibbling. You can then try to pull the prawn out of the pond.
To unhook the prawn off the line, first bring it over the ground. Hold the prawn by its back and use either your hands (be sure to keep your hands away from the pinchers) or a tool to remove the hook from the prawn.
You can now put your new catch into a net suspended into the water. This keeps the prawn alive and fresh while you move on to your next conquest.
If you catch a prawn with a special tag on its tail, you stand to win some prizes.
So, what do you do with your catch at the end of the day? There are two options.
You can pack the prawns to bring back home ("da bao") or make use of the barbeque pit at Fish@Bugis+ to grill your prawns on the spot.
Prawning at Fish@Bugis+ is a fun activity that even young children can enjoy together with their parents. It takes some patience as there is no guarantee that the prawns will bite, however, when they do, it is pretty thrilling and fun to haul them in.
Rates for the rods are $18 for one hour or $29 for two hours.
Longkang Fishing at Fish@Bugis+
Fish@Bugis+ also has a longkang fishing activity for younger children.
With a fishing net and a bucket hired from the counter, children under 12 can wade a fish-filled outdoor pond and chase down the little fish. Once done, kids get to bring home their catch of the day.
It costs $12 for one hour of longkang fishing at Fish@Bugis+.
Fish@Bugis+ also has a fish foot spa area for those who enjoy having little fish nibble away at the dead skin on their feet.
Prawn Stars
Fish@Bugis+ is a good spot for families to go prawning because of its central location and, being indoors and air-conditioned, it is an activity that you can do even on rainy days.
Fish@Bugis+
Address: 201 Victoria Street #07-05, Bugis+, Singapore 188067
Opening Hours:
Monday to Fridays – 10 am to 6 am the next morning
Saturday, Sunday and Public Holidays – 9 am to 6 am the next morning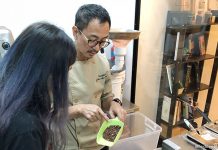 Craft chocolates sometimes get labelled as overpriced chocolates, however, after a visit to Lemuel Bean to Bar Chocolate, we walked out with a whole...
When it is time to relax and kickback, there is nothing quite like slowing down and taking it all in at a restaurant which...

FEATURED LISTINGS