Chinese New Year 2018 falls on 16 February. As every year, the kids get all excited about the celebrations. And why not? There are yummy snacks to munch on at every home, other kids to play with, and lots of ang pows to pocket! Besides facilitating the little ones' get-rich-quick plan, ang pows are also great for crafts with them. Here is an easy ang pow craft for the Year of the Dog that you can do with your little ones.
Ang Pow Craft For The Year Of The Dog: Origami Doggie
This Year of the Dog, pay tribute to man's best friend with this easy origami craft.
What you'll need:
Ang pow (long type): For this craft, it's best to use ang pows with a colourful design or graphic pattern that extends all the way to the corners
Marker
Crepe paper and glue for decorations (optional)
Follow these steps:
1. Open up the ang pow, cut off the flaps, and fold two diagonal lines across it. Trim off any excess so you get a perfect square.
2. Rotate the ang pow till you have the diagonal lines forming an "X", with the original fold line of the ang pow sitting horizontal across. Fold the top two corners in as pictured. These will be the ears of the doggie.
---
Story continues below
As parents, we want to give Baby the best care we can afford. But how can we be sure that we're making the right...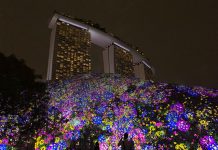 Future Together at Gardens by the Bay, a digital art exhibition, caps off the Singapore Bicentennial commemorations with interactive installations that encapsulate the hope...
---
3. Fold backwards along the diagonal lines till the overall shape becomes a triangle.
4. Fold the two protruding corners backwards following the shape of the ears.
5. Fold the bottom corner upwards as shown.
6. Use the marker to draw eyes, a nose (using the tip of the corner that you just turned up), and a mouth, and your cute doggie is ready for display! The resulting corners at the back double up as stands that prop the dog up at just the right angle.
7. You can also decorate your doggie with a bow, flowers, pom poms, and even a cut-out of a bone!
More Stories on Chinese New Year:
West is best and we have the biggest bouncy playground to prove it. Bouncy Paradise which was last seen with its pop-up at PeopleUp@Pandan....
What better a way to scurry into the New Year of the Rat than with a new year feast at Fat Chap! Priding themselves...
FEATURED LISTINGS