From art, theatre and music to nature outings and bazaars – whatever your interests, there's sure to be a fun event taking place that will zest up your weekend.
18 to 21 Jan
Victoria Theatre
This highly popular show based on Julia Donaldson's bestselling book is full of songs, laughs and scary fun for kids from age three and up. Join Mouse on his adventure through the deep, dark woods, as he discovers if there really is such a creature as the Gruffalo. Details.
17 to 28 Jan
Various locations
Visitors can look forward to a wide range of art experiences, from exhibitions and art walks to family-friendly activities and workshops such as the SAM Community Day and mural-painting at Gillman Barracks. More info.
3. Dahlia Dreams
19 Jan to 4 Mar, 9 am to 9 pm
Flower Dome, Gardens By the Bay
Get into the mood for Lunar New Year with a visit to this floral exhibition featuring dahlias, camellias, lagerstroemias and bromeliads in a courtyard garden setting, complete with palace lanterns and umbrella curtains. Learn more. 
19 to 20 Jan
Esplanade
Potter fans, don't miss this chance to relive the magic as the Metropolitan Festival Orchestra performs the score live while the movie plays on a 40-foot screen. Find out more.
20 Jan, 9 am to 3 pm
HortPark
HortPark's signature event promises a fun time for everyone! Programmes lined up include the Gardeners' Market and Bazaar, a garden walk and craft activities. More info.
19 to 28 Jan
Civic District
Held in conjunction with Singapore Art Week, this sees landmark buildings in the Civic District transformed into mediums for spectacular, dazzling art works and installations. Learn more.
19 to 21 Jan
Singapore Expo
Gathering all the biggest brands in the baby and maternity industry, this mega fair is your one-stop shop for everything kid-related, from prams and car seats to furniture, feeding accessories, toys and more.
Till 3 June, 10 am to 7 pm
ArtScience Museum
See the works of some of the world's most iconic street artists, and discover more about the origins and evolution of street art. Details.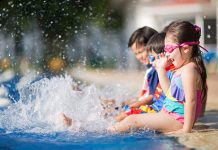 Even if you have no intention of nurturing your child to become the next Joseph Schooling, swimming is a life skill that is very...
World Autism Awareness Day 2020 falls on 2 April. In conjunction with the day, the Metta Welfare Association is raising funds with a #HelpMettaSelena...
FEATURED LISTINGS