With school winding down and the long holidays on the horizon, it's time to start gearing up for fun, fun, fun! Here are some fabulous events this weekend to get ball rolling.
Till 12 Nov
Civic District
---
Story continues below
Not just another light show, Magical Shores at Siloso, Sentosa is Singapore's first beach light show. Now "screening" on the sand, Magical Shores Sentosa...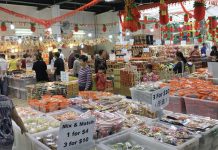 Want to know where to get superb CNY bargains? We uncover where the aunties shop for their festive goodies! Don't let the distance deter...
---
This festival's gone from strength to strength each year, and so has its list of quality programmes and activities for kids and families. From writing workshops for junior writers to art and craft sessions and meet-the-author opportunities, there's lots to dig into. Details.
7 Nov to 3 Dec
MasterCard Theatres at Marina Bay Sands
Probably the world's best-known and most-loved musicals, this iconic production is packed with familiar, evergreen tunes and a feel-good story about love, family and hope. Find out more.
11 to 26 Nov
Singapore Botanic Gardens
For two fun-filled weeks, kids can look forward to a wide range of engaging and educational programmes that let them learn more about nature through play, craft, storytelling, walks and workshops. Learn more.
Till 12 Nov
Sun Yat Sen Nanyang Memorial Hall
Learn more about Singapore's vibrant Chinese arts and heritage scene at this cultural extravaganza, which features guided tours, workshops, a bazaar, exciting performances and more.
10 Nov to 8 Jan 2018
Gardens by the Bay
The Flower Dome gets transformed into a wintry, Nordic wonderland filled with pine trees, poinsettias and other festive blooms. Be sure to have your camera on hand as you stroll through settings like Santa's reading cabin and the giant tent-dwelling of Finland's indigenous Sami people. More info.
9 to 12 Nov
VivoCity
Celebrate the Singapore Navy's 50th birthday with a visit aboard a Formidable-class frigate, and learn more about our maritime history and strengths through simulators, displays, performances and other fun highlights. Find out more.
11 to 12 Nov
Singapore Sports Hub
Learn how the whole family can enjoy a healthier, fuller life at this carnival. With different zones addressing different age groups, it's a chance for everyone to have some fun and find out more about how to live well. Details.
Till 18 Mar, 10 am to 6 pm daily
Science Centre Singapore
Unravel the science behind some of the most popular circus acts and learn some lesser-known facts about their inner workings at this fascinating exhibition. More info.
West is best and we have the biggest bouncy playground to prove it. Bouncy Paradise which was last seen with its pop-up at PeopleUp@Pandan....
As parents, we want to give Baby the best care we can afford. But how can we be sure that we're making the right...
FEATURED LISTINGS