2017 has been a year jam-packed with exciting new spots and activities for families in Singapore. We give you a month-by-month summary of the best things to do with kids that have newly launched this year.
Have you been a Little Day Out Adventurer and visited each of these places yet?
January
February
March
April
May
June
July
August
October
Download our infographic of 2017 in Review. Use it as a reference to go on a little day out if you haven't already done so!
For those taking a stroll around Singapore's public spaces, there are public art works and sculptures that are easy to appreciate. And, if the...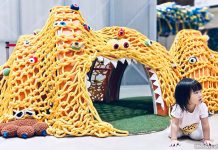 The Artground ushers in the new year with Wild Rumpus, a brand new installation by artist and designer, Adeline Loo, featuring some of the...
FEATURED LISTINGS