McDonald's Singapore has introduced mobile device lockers at their flagship Marine Cove restaurant as a way to encourage families to spend more quality time with together.
McDonald's Marine Cove's Mobile Device Lockers
Based on a survey of 302 parents conducted by McDonald's, 98% of parents and 91% of kids used mobile devices when together as a family. 69% of parents surveyed and 72% of kids used the mobile devices during meal times.
With the intent of fostering healthier interactions among family members, mobile device lockers have been introduced at McDonald's Marine Cove. This outlet is especially popular with families with young children because of the lighthouse-inspired Marine Cove playground just beside it.
With McDonald's Marine Cove's mobile device lockers, parents and kids can stow away their mobile devices safely under lock and key while at the restaurant.
This novel idea is intended to create a more conducive setting for family interactions by eliminating distractions and compelling family members to be more "present" while having a meal together.
McDonald's Marine Cove's mobile phone lockers initiative, dubbed Phone Off, Fun On, is the first of its kind in Singapore.
Table Service At McDonald's Marine Cove Outlet
---
Story continues below
Start the festivities right with UE Malls this Christmas season! Christmas Adventures @ UE Malls is happening on 7 & 8 December 2019 where you...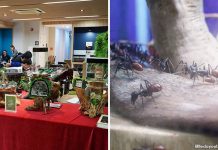 After a visit to the Singapore Ants Exhibition, you may never be able to look at the ants crawling around your home in the...
---
Another innovative idea being piloted at McDonald's Marine Cove is table service.
Customers who place orders at the restaurant's self-ordering can select a table service option. Once the food order has been submitted, they can proceed to sit down. Guest Experience Leaders will then serve the food to the table once ready.
According to McDonald's, this is to allow parents to spend more time looking after their children rather than waiting to collect their meals.
Free Apple Slices With Happy Meals On Weekends in October 2017
Additionally, for the month of October 2017, McDonald's Singapore is also rewarding customers who buy Happy Meals on weekends with free apple slices as a way to encourage kids to eat more fruit.
Forget about Superman, Ironman or Captain America. When it comes to Christmas season, the greatest superhero of all is… drumroll please… Santa! After all,...
We've packed six weeks worth of activities in an easy-to-use holiday guide. Whether you want to find out what is going on at the...
FEATURED LISTINGS