Singapore Zoo welcomed a new baby white rhino on 6 September 2017.
Baby White Rhino
Born to 32-year-old mom, Donsa, the yet-to-be-named baby rhino was standing up with an hour of birth. This is Donsa's 11th calf and the first male rhino to be born at Singapore Zoo in five years.
The experienced keepers at Singapore Zoo have already managed 20 rhino births prior to the latest. As such, they were able to anticipate Donsa's impending delivery and prepared her birthing den in advance.
Hanging Out With Mom
The new baby rhino is currently spending time with mom at the back-of-house facility. He enjoys being scratched with an extended brush, an act that allows him to get acquainted with his keepers and conditions him to be less resistant to medical procedures in the future.
Singapore Zoo is home to seven white rhinos. Some of the rhinos born at the zoo in the past have been sent to countries such as Australia, Indonesia, Korea and Thailand as part of a worldwide exchange programme.
The new baby rhino's father is Hoepel. Visitors to Singapore Zoo can meet him and other white rhinos at the daily feeding sessions at 1.15 pm.
Second Largest Land Mammals
White rhinos and Indian rhinos are the second largest land mammals in the world. They are considered near threatened in the wild and are hunted for their horns which some believe to have medicinal properties. In reality, the horns are made of keratin, the same material found in hair and fingernails and have no medicinal properties.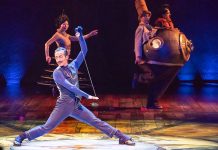 Set in a steampunk alternate reality, KURIOS – Cabinet of Curiosities by Cirque du Soleil is a stunningly visual treat with arresting acts and...
Pikachu, Eevee and Mimikyu are dancing their way around Jewel Changi Airport in its first Pokémon Parade. This cute formation of Pokémon is sure...
FEATURED LISTINGS