Get ready for a serious bit of lunar madness, as we enter a weekend jam-packed with all sorts of Mid-Autumn festivities and moon-themed events and performances.
30 Sept, 10 am to 2 pm
Lorna Whiston Winchester Preschool and Kallang Wave Preschool
Get your child's learning journey off on the right foot with a preschool that will inspire and feed the thirst for knowledge. With its stimulating and nurturing environment and 37-year track record, Lorna Whiston may be just the place. Head over to their Open House to discover more about their premises and acclaimed curriculum. Details.
30 Sept to 1 Oct, 10 am to 9:30 pm
Sun Yat Sen Nanyang Memorial Hall
Story continues below...
---
---
Story continues...
Learn more about the history and cultural significance of this popular traditional festival through heritage trails, guided tours, craft workshops, music performance and lots of other activities. Find out more.
30 Sept, 7 pm to 8 pm
Shaw Foundation Symphony Stage, Singapore Botanic Gardens
Catch this novel dance-theatre performance by The Arts Fission Company, which merges the famous Chinese legend of Chang E with contemporary arrangements of moon-inspired classical music. Learn more.
30 Sept, 7 pm to 11 pm
Outdoor Theatre, Esplanade
Treat your eyes and ears to a range of rousing traditional performances, exciting Chinese opera moves and more at this free outdoor festive concert. Details.
Till 19 Oct
Chinatown
Soak in the atmosphere at this historic district, which comes alive in a sea of dazzling LED lantern displays and bustling activity. Shop for traditional festive goodies at the street bazaar, be entertained by cultural performances, or take part in the annual lantern walk. More info.
29 Sept to 1 Oct
Theatre Studio, Esplanade
This award-winning production brings a classic Chinese folktale to life through a mix of traditional hand puppets, live action and melodious tunes. A great chance for young ones to learn about the importance of determination and kindness. More info.
Till 8 Oct, 6 pm to 11 pm
Gardens by the Bay
Stroll among sprawling, brilliantly-lit giant lantern displays, try your hand at arts and crafts, snack on traditional goodies and catch the special Mid-Autumn edition of the nightly Garden Rhapsody light-and-sound show. Find out more.
1 Oct, 6 pm to 8 pm
Shaw Foundation Symphony Stage, Singapore Botanic Gardens
Pack the mat and champagne and settle down for a relaxing evening of fabulous singing in this opening concert for this year's A Cappella Festival.
28 Sept to 1 Oct
National Gallery Singapore
Merging theatre and play, kids are invited to let their imagination run free as they fill an incredible forest of tall cardboard trees with their own paper creations. A creative and inspiring experience for young and old. Details.
Usher in Chinese New Year 2019 at HarbourFront Centre with family-friendly activities, including LIVE character performances, meet-and-greets, colouring and interactive walls, craft activities and...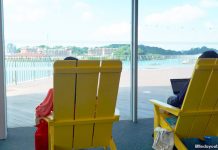 The new library@harbourfront, located within VivoCity shopping mall, brings the reading experience closer to the masses with its opening on Saturday, 12 January 2019. The...
FEATURED LISTINGS