School has started again, but that doesn't mean the fun has to stop. There are still plenty of places you can head to for a great time with the family. Here are some fab ideas.
Till 24 Sept
Ulu Pandan Community Club Theatrette
Discover what how powerful words can be in this production that puts an imaginative, musical spin on the famous Grimm Brothers fairytale. Learn more.
Till 8 Oct
Terminal 3 Departure Hall Public Area
Carnival rides, games, plus free lunch dining for kids at participating F&B outlets – the folks at Changi Airport have pulled out all the stops to make it a place where families can go play, dine and shop.
Story continues below...
---

---
Story continues...
13 to 30 Sept
MasterCard Theatres at Marina Bay Sands
It's not the thing for tots and preschoolers, but older kids may appreciate the electrifying dance routines, soaring tunes and classic love story of this world famous production, billed by UK's The Times newspaper as 'the number one greatest musical of all time'. Details.
Till 17 Sept, 10 am to 9 pm
Siloso Beach
This is your last weekend to catch Southeast Asia's largest sand festival, where local and global sand masters have come together to create incredible works of art out of nothing but grains. Find out more.
16 Sept, 9 am to 7 pm
National Stadium
It's set to be a full day of sporty, action-packed fun at the National Stadium, with giant inflatables, sports try-outs, mass workouts, meet and greets with top athletes and more. Details.
Till 30 Sept
LEGOLAND
To mark its 5th birthday, LEGOLAND has lined up all sorts of special one-off programmes and perks for the occasion. So head across the Causeway to make the most of the celebration highlights and discounts. Find out more.
16 & 17 Sept
Palawan Green
There are few better ways to wind down at the end off the day than with a relaxing outdoor movie session. Pack along the beach mat, popcorn, soda and you're all set.
16 Sept, 1 pm to 2 pm
Marine Parade Public Library
Let veteran puppeteer Mr Christoper Chow and his puppets entertain you with an entertaining performance of two stories. More info.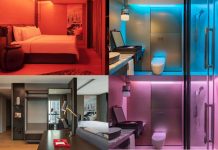 Lighting that adapts to a guest's body rhythm, a multisensorial Experience Shower and an in-room wellness wall. These are some of the features at...
Nestled unobtrusively in the basement of KK Women's and Children's Hospital (KKH) is a small bank that packs a big punch. Even though the...

FEATURED LISTINGS