Celebrate our Nation's birthday as One Sporting Singapore! This National Day, 9 August 2017, gear up for an action packed fun time at the Sports Hub National Day Fiesta. This full day of celebration features a variety of sports, fitness, entertainment and lifestyle activities. There will also be limited Sports Hub National Day Fiesta fun packs up for grabs!
Here are some of the key highlights to look out for which will be sure to excite folks from all walks of life. (Psst, all activities are free for the public!)
National Day Fiesta Carnival
The National Day Carnival consists of stage performances and you can participate in activities such as upsized board games, bouncy castles, racing simulators, design-your-own-NDP-truck and more! The Sports Hub National Day Fiesta Carnival takes place between 1 pm and 6 pm at OCBC Square.
A Singapore Flag Collage Craft will also be conducted at the Singapore Sports Museum between 10 am to 9 pm.
Sporting Activities on National Day
---
Story continues below
The Boys' Brigade Share-a-Gift 2019 project started off on Saturday, 7 December, with 350 volunteers heading out to deliver food hampers to beneficiaries around...
The season of giving is here! One of the best (and easiest) ways to show your love and appreciation to loved ones is getting...
---
For those who are ready to get your heart pumping, there are a variety of sporting events for you and your family to try.
Form a team of two to five persons and be an athlete for a day as you challenge yourself to eight different sports such as tennis, touch rugby and futsal at the Experience Sports Super 8s.
Get fit while singing along to your favourite National Day-themed songs with the energetic and fun instructors at the 52 Minutes National Day Fitness Blast! Two sessions will be held, one at 1 pm and another at 3 pm.
Also, if you ever wanted to experience being part of an Aquathlon, now you can! Experience Sports – Sports Development Series: Aquathlon includes a swim leg at the OCBC Aquatic Centre and a run along the Stadium Riverside Walk with scenic views of the city skyline. There are separate sessions catering to children and adults so everyone can be part of the fun!
Live Screening of National Day Parade 2017
Last but definitely not least, have a family picnic or chill out with friends right at the OCBC Square while watching the live telecast of the National Day Parade.
Head over to the Sports Hub website for more information on the timings of the events and to register for the events. www.sportshub.com.sg/NationalDayFiesta
Sports Hub National Day Fiesta
Date: 9 August 2017
Time: 9 am to 9 pm
Venue: Singapore Sports Hub
The season of giving is here! One of the best (and easiest) ways to show your love and appreciation to loved ones is getting...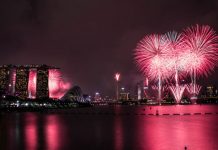 Have you got your New Year's Eve and New Year's Day 2020 plans all sorted? Another year (and decade) is soon gone, and we...
FEATURED LISTINGS