A grand kinetic sculpture, Petalclouds, will take centrestage at Changi Airport Terminal 4. Occupying the Central Galleria separating the public and transit areas, Petalclouds will be one of several Changi Airport Terminal 4 artworks.
Petalclouds
Spanning 200 metres, Petalclouds is visible from almost everywhere at Changi Airport Terminal 4. As with the Kinetic Rain sculpture at Changi Airport Terminal 1, Petalclouds brings together art and technology to create a gracefully choreographed dance in mid-air.
In the case of Petalclouds, there are six 'petal clouds' that move to a classical score specially created by BAFTA-award winning composer, Ólafur Arnalds. Each cloud is made up of 16 individual elements, each suspended on two motors with four wires.
Petalclouds was created by ART+COM, a group of artists, designers and programmers based in Germany, together with composer Arnalds, engineering specialists at MKT AG and a construction team from Takenaka Corporation.
Travel & Aviation in Art
---
Story continues below
West is best and we have the biggest bouncy playground to prove it. Bouncy Paradise which was last seen with its pop-up at PeopleUp@Pandan....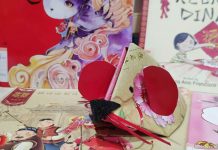 Dong dong chang! Right on the heels of Christmas is another important season for the Chinese – the Lunar New Year, of course. Remembering...
---
Three other physical art works can be found at Changi Airport Terminal 4. Each of these reflects the theme of travel or aviation.
Hey Ah Chek! is a sculpture by local sculptor and Cultural Medallion winner, Chong Fah Cheong. It is a nostalgic depiction of a mother and her son hailing a trishaw for a ride home from the market and harkens back to Singapore of the 1950s. Hey Ah Chek! can be viewed at the Departure Check-in Hall.
Travelling Family is a work by Swiss artist Kurt Metzler that captures the feelings of excitement and energy he felt with his family as they transited through New York and later at Changi Airport. It is representative of the familiar emotions passengers feel when setting off from an airport to experience the world. Travelling Family can be found at the Departure Transit area of Terminal 4.
French artist Cedric Le Borge's contribution to Changi Airport Terminal 4's collection of art is Les Oiseaux (The Birds). It features three larger-than-life 3D-wire bird characters that represent the emotions one would typically experience at an airport. The sculptures can be found at the Arrival and Departure Halls.
Bringing Enjoyment Through Changi Airport Terminal 4 Artworks
The physical contemporary art works at Changi Airport Terminal 4 represent a mix of mediums, sizes and imagery from both local and international artist. Each artwork was considered, conceptulised and designed to augment Terminal 4's design and architecture.
Changi Airport Terminal 4 also has a digital screen at its centralised security screening area, just past immigration. This 70 metre by 5 metre immersive wall presents high definition images of Singapore's skyline, ASEAN landmarks and quirky animated clips of suitcases being screened before flight. With 50 minutes worth of content, it is intended to keep passengers entertained as they make their way through the security area.
Said Ms Poh Li San, Changi Airport Group's Vice President, T4 Programme Management Office, "With T4, we have sought to create an enjoyable and memorable travel experience for our passengers, from the facilities and services, to the environment and the visual elements within – especially in locations with higher footfall and longer dwell times. The collection of art and entertainment formats in T4 was commissioned to be accessible to people of all ages and backgrounds, and it is a diverse blend of mediums, sizes and imagery that etches an inspiring first and last impression of their journey through T4."
As parents, we want to give Baby the best care we can afford. But how can we be sure that we're making the right...
Not just another light show, Magical Shores at Siloso, Sentosa is Singapore's first beach light show. Now "screening" on the sand, Magical Shores Sentosa...
FEATURED LISTINGS