Kids have a new stomping ground in The Artground, a brand new multi-disciplinary children's arts centre at Goodman Arts Centre.
Opening its doors to the public from 8 July 2017, The Artground offers a place for children between zero to 12 to have an encounter with the arts. It is also a space where artists can collaborate to develop programmes that reach out to young children.
Play Spaces for Kids
The Artground consists of four play spaces or venues.
At the first play space, The Ground Floor, kids from ages of two and up can look forward to interactive art installations that will be refreshed three times a year.
Baby Stage is designed as a safe space for babies and early walkers to explore.
A play on the traditional black box theatre space, WhiteBox is a cosy and intimate theatre space for kids. Isolated from the other venues at The Artground, it will be the venue for child-friendly performances throughout the year.
The Artground's last space is outdoors. The Good Garden features plants that encourage kids to appreciate nature. Cared for by Cultivate Central, The Good Garden will be the venue for workshops where kids can touch, taste and smell edible plants and pick up urban farming ideas.
Inaugural Programmes at The Artground
Both free and ticketed programmes will be held at The Artground.
Story continues below...
---
---
Story continues...
The inaugural exhibition at The Ground Floor is Down The Rabbit Hole by Poh Ya See.
This whimsical visual art exhibition explores the world of animals that live underground. Kids can scurry through tunnels, imagine living in a Platypus Habitat and meet tiny creatures among the installations.
At WhiteBox, the inaugural performance, Baby Space, is a multi-sensory experience for babies 16 months and below. The performance brings together contemporary dance with music and visual art for babies. It is created by Sweden-based choreographer Dalija Acin Thelander.
Expanding the World of the Arts for Kids
The Artground is managed by The Ground Co Limited.
Ms Luanne Poh, Director of The Ground Co Limited said, "We believe that all children are intrinsically curious, and at The Artground we hope to provide opportunities for them to remain so. With the space and the myriad of programming possibilities, we aim to facilitate learning through play and empower to children to express themselves in multiple ways. We are driven by our vision 'to let art do, what art does' – to provide experiences that keep our children thinking, questioning, exploring, appreciating and discovering through art."
The Artground
Address: Block J #01-40, 90 Goodman Road, Singapore 439053
Opening Hours: Wednesdays to Thursday – 9.30 am to 5 pm, Fridays to Sundays & Public Holidays – 9.30 am to 6 pm. Closed on Mondays and Tuesdays.
Admission Charges: Free admission to the installations at The Ground Floor. Workshops and performances are ticketed.
Website
Planning a trip to London with kids? There is an amazing range of things to do and it can feel quite overwhelming trying to...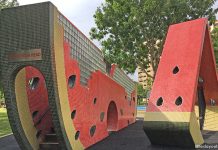 Tampines Central Park stretches out like a green lung from Our Tampines Hub to Tampines Street 83 amidst a sea of housing apartment blocks....
FEATURED LISTINGS