Singapore Zoo celebrated its 44th birthday with a durian feast for its flagship species, the orangutans.
Singapore Zoo's animal icon Ah Meng along with her orangutan friends Chomel and Anita received their thorny treats wrapped up as presents. They proceeded to enthusiastically tear open the boxes to get to the king of fruits inside.
Celebrating Singapore Zoo's 44th Birthday
After the orangutans had their treat, Friends of Singapore Zoo and Friends of Wildlife members were invited to join in with a spread of durian and other tropical fruit. There were also opportunities for guests to take photos with the charming orangutans.
Singapore Zoo opened on 27 June 1973. It was one of the early pioneers of the open zoo concept and has come to be recognised as one of the best zoos in the world. Today, it is home to more than 2,800 animals over 300 species, 26% of which are threatened. Singapore Zoo welcomes more than 1.7 million visitors each year.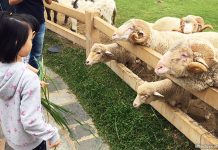 Sprinkled with quaint Italian-inspired villages, wineries with vineyards and flower fields against a mountainous backdrop, the region of Khao Yai near Bangkok, Thailand, offers...
Japanese organising consultant and author, Marie Kondo's latest venture Tidying Up with Marie Kondo premiered on Netflix on 1 January 2019, and it has sparked...
FEATURED LISTINGS