In Bangkok's busy restaurant scene, there is always at need to find something to stand out from the competition. At the Alpaca View Farm & Cuisine restaurant, the "something" just so happens to be alpacas.
Alpacas are domesticated South American animals that resemble small llamas. Adorably fitted with a wooly fleece, they are classified in the same family as camels and normally found in Peru, Bolivia and Ecuador.
Alpaca View in Bangkok has a few of these wooly animals. They are kept in a pen inside the restaurant's compound.
Visitors can purchase some cut carrots and feed these to the hungry-look alpacas. We approached the alpacas with a little apprehension because, just like their larger cousins the llamas, they can spit if provoked.
---
Story continues below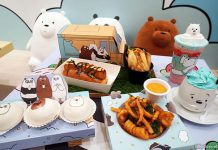 Grizzly, Panda and Ice Bear! Calling all fans of these three beloved bears from the popular Animated Series 'We Bare Bears'! You'll be thrilled...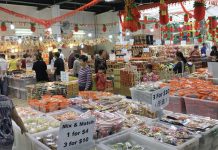 Want to know where to get superb CNY bargains? We uncover where the aunties shop for their festive goodies! Don't let the distance deter...
---
Thankfully, the alpacas did not seem interested at spitting at us. Instead, they were more interested in munching down the kibble we had in our hand.
Next to the alpacas is a sole pony. While you may be tempted to focus on feeding the alpacas, do spare a thought, and some food, for the lonely pony.
Sadly, the animals did not appear very well kept.
Beside the alpacas, the pony, and a few ducks, there are also sheep at pasture at Alpaca View's entrance. It is a truly odd sight to see wooly sheep grazing on grass while traffic drives past on the road a stone's throw away.
That scene is almost as surreal as the gigantic windmill and Eiffel Tower that marks Alpaca View Farm & Cuisine's entrance.
Beyond the menagerie of animals, Alpaca View is a restaurant that serves local Thai food. It has outdoor and indoor seating areas and is also known for its karaoke and bar.
Alpaca View is a long way out from central Bangkok and in the city's notorious traffic, an epic journey. The closest BTS station is Chatuchak but you will still need to take a car journey to get to the kitsch establishment.
If you are a die-hard animal fan, Bangkok has many other places where you can view animals. These include numerous cat cafes (there is one across the street from Alpaca View), a husky cafe and an exotic pets cafe.
Would we make the journey out again to the north of Bangkok view the alpacas? Probably not.
Alpaca View Farm & Cuisine
Address: Alpaca View Farm and Cuisine, 11 Soi Ladprao-Wanghin 71, Ladprao Rd, Bangkok 10320
Tel: +66 81 406 6400
Opening Hours: 5 pm to 1 am, daily
No visit to Seoul with the family is complete without a visit to South Korea's biggest theme park: Everland! We had an awesome day...
West is best and we have the biggest bouncy playground to prove it. Bouncy Paradise which was last seen with its pop-up at PeopleUp@Pandan....
FEATURED LISTINGS