We've hit the halfway mark of the school holidays, and if you feel it hasn't been as fun or memorable as it ought to be, then this is a great weekend to get started. Take your pick from movies, musical concerts, art and craft, an education fair and more!
9 to 11 June
Suntec Singapore Halls 404-406
---
Story continues below
As parents, we want to give Baby the best care we can afford. But how can we be sure that we're making the right...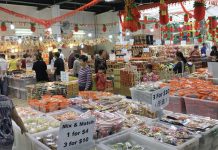 Want to know where to get superb CNY bargains? We uncover where the aunties shop for their festive goodies! Don't let the distance deter...
---
Not just a kids' education and enrichment fair, visitors can also look forward to live theatre stagings of local legends, old-school games, performances and meet-and-greets by popular cartoon characters, charity fundraising drives, free trial classes and lots more. Details.
Till 27 Aug
The Annexe, Science Centre Singapore
Learn about basic design, automation and mechanics in a fun way by assembling your own robot dinosaur! There are also other engaging on-site activities such as mask-making and puppetry. Find out more.
10 June, 1 pm to 5 pm
National Design Centre
Love the colourful Art-Zoo characters at i Light Marina Bay earlier in the year? Then be sure to drop by for this exhibition, where you can also add your contribution to a huge coloured piece of community artwork. Learn more.
11 June, 3 pm to 4 pm
Concert Hall, Esplanade
Go on a symphonic fairy tale with the young musicians of kids' philharmonic@sg, who will be performing pieces from well-known movies and musicals such as Cinema Paradiso and Peter and the Wolf. Free admission.
10 June, 11 am to 12.30 pm, 2 pm to 3.30 pm & 4.30 pm to 6 pm
Play Den, The Arts House
This National Arts Council-approved holiday programme helps children develop an appreciation for Shakespeare through a speech and drama class centred on the famous play, Macbeth. Find out more.
10 to 11 June, 10 am to 12 pm & 2 pm to 4 pm
National Museum of Singapore
Catch a fabulous selection of French and local animated short films in this specially curated programme for families and kids. Genres include action, fantasy and adventure.
8 to 11 June, 11 am & 2 pm
Theatre Studio, Esplanade
The Singapore Dance Theatre's annual children's ballet is an enchanting mix of magical tales, spirited dancing and fun bonus activities such as ballon sculpting and meet-and-greets with the characters. More info. 
11 June, 10 am to 7 pm
Singapore Philatelic Museum
Be enthralled by this showcase of fairytale-themed stamps from all over the world. Interactive and hands-on exhibits let you immerse yourself in the magical tales of Hans Christian Anderson, the Brothers Grimm and more. Details.
10 & 11 June, 4 pm to 5:30 pm
Victoria Concert Hall
Experience Chopin's music in a colourful and unique way, as the Singapore Symphony Orchestra performs the music alongside The Chopin Shorts, a collection of short film by award-winning animators. Find out more. 
9 to 11 June, 10:30am, 12:35pm, 2:40pm & 4:45pm
Expression Gallery, Level 4, ArtScience Museum
Embark on a fantastical journey with this well-loved masterpiece from iconic Japanese animation company, Studio Ghibli. Free admission, seating on a first-come-first-served basis.
10 June, 6 pm to 7 pm
Singapore Botanic Gardens
Enjoy a relaxing evening in the park, as the Singapore Chinese Orchestra performs a medley of light-hearted tunes such as the Super Mario Brothers Theme and Under the Sea.
As parents, we want to give Baby the best care we can afford. But how can we be sure that we're making the right...
What better a way to scurry into the New Year of the Rat than with a new year feast at Fat Chap! Priding themselves...
FEATURED LISTINGS