Reluctant
Adjective
Kid-friendly Description: Not willing to do something.
In a Sentence: John was reluctant to cut his nails so Mum had to do it for him.
Photo credit: sjrankin via Visualhunt.com / CC BY-NC
---
About #WOTD
In #WOTD, Little Day Out introduces words to help children expand their vocabulary. Each Word of the Day is accompanied by a description and example of how it can be used in a sentence.
This #WOTD is powered by Cornerstone Learning Centre, professional builders for Primary English and Mathematics.
Schools and Institutes of Higher Learning will implement full home-based learning from Wednesday, 8 April 2020, onwards. In addition, preschools and student care centres...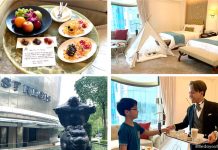 Right from the moment we arrived at The St. Regis Singapore, we were transported to a realm of old-world charm and graceful elegance. Beautiful...
FEATURED LISTINGS