Come and meet a panther chameleon, Gaboon viper and other amazing reptiles at Singapore Zoo's soon-to-be-opened exhibit, RepTopia. Cozy up to these cold-blooded creatures during RepTopia – Eww'll love it and Zoolympix 2017: Reptile Revolution during the June 2017 school holidays and you will discover they are more "ahh" then "eew".
RepTopia – Eww'll love It
Over the weekends of 27 May to 26 June 2017, visitors to the Singapore Zoo and River Safari can engage in a range of activities for the holiday season that include reptile-inspired crafts, fascinating animal enrichment sessions and meet-and-greet sessions as part of RepTopia – Eww'll love it .
At Singapore Zoo, visitors will get to meet a keeper and learn what it takes to keep reptiles happy and well-cared for. Charm-eleon the charming chameleon mascot will be posing for photos with visitors and kids can create their own chameleon party blowers or colour changing crafts.
Over at River Safari, discover how reptiles "smell" with their tongues and why they sleep with their eyes open during Reptiles Encounter. Enjoy a silhouette skit performance and craft a stick alligator and turtle hanging door tags.
Activities at RepTopia – Eww'll love it are free but normal park admission charges apply.
Zoolympix 2017: Reptile Revolution
In addition to RepTopia – Eww'll love it, the Singapore Zoo's popular Zoolympix returns for the 13th year with a focus on reptiles.
Pick up a RepTopia quest map at the Awareness Booth (opposite the Zoo's retail stop) or at the welcome booth at the sun bear exhibit for $3 to participate. Go on a trail to learn about amazing reptilian abilities like colour changing abilities and eyes that can see in different directions.
Zoolympix 2017: Reptile Revolution takes place between 10 am to 4 pm. Registration closes at 3.30 pm. Activities are recommended for children aged four years old and above.
RepTopia – Eww'll love it and Zoolympix 2017: Reptile Revolution will take place on the weekends only between 27 May and 25 June 2017. Visit the Singapore Zoo's website for more information.
Most of us are familiar with the iconic dragon playground at Toa Payoh, and perhaps even the one at Ang Mo Kio. However, fewer...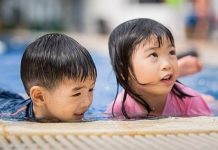 We often hear from parents that swimming is just one of the many activities their child takes part in after school. Which is great!...
FEATURED LISTINGS