In the days when Singapore was known as Temasek, being part of the maritime trade meant going fishing. Nowadays, the maritime trade is a little bit more complicated and at the revamped Singapore Maritime Gallery, you can chart the development of Singapore's maritime trade and plunge into the country's deep relationship with the sea.
Insider's Guide
For those who are curious about how the port works, or have dreamt of captaining a boat, the Singapore Maritime Gallery is the place to visit.
The Gallery starts from the beginning – Raffles' landing in Singapore. Back then, Singapore was still a village community that relied on the sea for subsistence. The story then quickly fast-forward to the rise of Singapore's modern port and a behind-the-scenes look at how it operates to make our modern lives possible.
Get the inside story on how Singapore's port, which seems like a sure-win on hindsight, was not always a foregone conclusion, or how ships avoid getting lost as they sail around the waters.
---
Story continues below
West is best and we have the biggest bouncy playground to prove it. Bouncy Paradise which was last seen with its pop-up at PeopleUp@Pandan....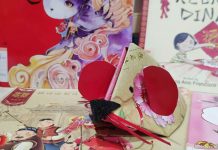 Dong dong chang! Right on the heels of Christmas is another important season for the Chinese – the Lunar New Year, of course. Remembering...
---
Here are six exhibits at the Singapore Maritime Gallery that you must sea see on a visit.
1. Lighthouse Models
Lighthouses act as reference points for ships. They allow ships to be aware of their surroundings and warn them of threats such as shallow reefs under their hull.
Singapore administers five lighthouses. There are two impressive models of lighthouses on display at the Singapore Maritime Gallery. These are of the Horsburgh Lighthouse and Raffles Lighthouse.
2. 20-foot Container
By some estimates, 90% of the world's goods are moved around by container ships. These huge ocean-going vessels transport everything from food to the latest iPhones from one country to another.
Goods are packed into containers such as the one on display in the Singapore Maritime Gallery (which in shipping jargon is known as a TEU or twenty-foot equivalent unit).
Singapore is ranked as the world's busiest transshipment port. In 2016, Singapore handled nearly 31 million of these 20-foot (6.98 metres) containers.
3. Interactive Ship Spotter
Are all ships the same? No, they are not.
Just as there are different forms of land vehicles such as jeeps, vans, sports cars and tow trucks, there are also different marine vessels. The display at the Interactive Ship Spotter exhibit lets you view the different types of ships found floating on the water.
4. Ship Handling Simulator
Those who think captaining a ship is easy should try out the Ship Handling Simulator.
There are eight missions available. These range from relatively simple missions like ferrying a group of passengers from St. John's Island to Marina South Pier, to more challenging ones such as responding to a search and rescue situation off Sentosa.
The Ship Handling Simulator is a fun way to experience the sea without feeling seasick. And no need to buy game tokens either!
5. Explorer's Corner
Little ones can head to the Explorer's Corner tailored just for them. Inside, they can dress-up at a digital screen, helm a ship, pick up knotty skills or imagine they are a crane loading up TEUs on a container ship.
6. Living Gallery
When you are done at the main gallery, go up to the rooftop where you can view the actual workings of the Marina South Pier from a high vantage point. Pretend you are a ship's lookout and use the signages to spot the landmarks in the distance.
Parents can let kids play at the outdoor children's playground while they get some R&R.
Getting to the Singapore Maritime Gallery
Singapore Maritime Gallery is located on the second floor of the Marina South Pier building. The pier is where you can take a boat out to the Southern Islands and where Stewards River Boat restaurant is located.
The Gallery first opened in 2012 and was relaunched on 17 April 2017 following a nearly $2 million revamp.
Take note that parking at the Marina South Pier is limited and the next closest parking is a far distance away at the Marina Bay Cruise Centre.
Alternatively, you can take the MRT to the Marina South Pier station. Exit B will bring you to Marina South Pier.
Singapore Maritime Gallery
Address: Marina South Pier, 31 Marina Coastal Drive, Singapore 018988
Opening Hours: 9 am to 5.30 am. Closed on Mondays except Public Holidays
Admission: Free
As parents, we want to give Baby the best care we can afford. But how can we be sure that we're making the right...
West is best and we have the biggest bouncy playground to prove it. Bouncy Paradise which was last seen with its pop-up at PeopleUp@Pandan....
FEATURED LISTINGS