Download a set of Poultry Tales Activity Sheets in conjunction with I Theatre's upcoming production, Poultry Tales, from 27 April to 14 May 2017. 
Birds of a feather flock together and at I Theatre's upcoming production, Poultry Tales, you will get to see three of your favourite fowl tales in one entertaining show.
Opening on 27 April at the Drama Centre Theatre, Poultry Tales will feature The Goose That Laid the Golden Eggs, The Little Red Hen and Chicken-Licken. The feathered trio will be singing and dancing as they share with audiences their stories in an interactive musical performance.
A little birdy told us that they will be revealing valuable secrets ­into how a Musical is made too!
Get Your Poultry Tales Activity Sheets
You can now download FREE and FUN activity sheets based on the characters you will be meeting at I Theatre's Poultry Tales.
Help find Goose find misplaced eggs, guide Little Red Hen to the flour mill and design a hat to protect Chicken-Licken from falling acorns, and more.
Download these FREE Poultry Tales activity sheets below.
Tickets to I Theatre's Poultry Tales are on sale now.
This feature is brought to you in conjunction with I Theatre.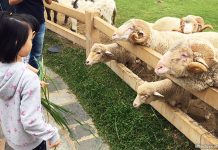 Sprinkled with quaint Italian-inspired villages, wineries with vineyards and flower fields against a mountainous backdrop, the region of Khao Yai near Bangkok, Thailand, offers...
Usher in Chinese New Year 2019 at HarbourFront Centre with family-friendly activities, including LIVE character performances, meet-and-greets, colouring and interactive walls, craft activities and...
FEATURED LISTINGS