Cap off the term break with a big hurrah before heading back to school! See dinosaurs in the park, catch an action-packed superhero movie under the stars, immerse in classical music, enjoy fun activities at the mall or a fair. Hurry, there's loads to do!
17 to 19 Mar, 10 am to 9 pm
Singapore Expo Hall 6
Asia's largest education kids' fair returns with new fun activities, contests and useful workshops for parents. Kids can take part in a storymaker camp, colouring and art contests, catch popular characters in live shows and more! Details.
Till 19 Mar
Omni Theatre
Join Lucy and her father in this exhilarating show, as they journey through various prehistoric periods in search of the dinosaurs that gave rise to today's birds. More info.
Story continues below...
---
---
Story continues...
Till 2 April, 12 pm to 8 pm
The Centrepoint
Experience Aesop's classic tales in all new ways! Watch them come to life in a stage show, have fun at an interactive story wall or take part in themed craft activities. Learn more.
18 to 19 Mar, 2 pm & 4 pm
Victoria Concert Hall
Let the Singapore Symphony Orchestra's Associate Conductor, Jason Lai, bring you on a fun musical escapade and discover the many instruments and musicians that make up an orchestra. Find out more.
18 Mar, 7:30 pm to 10 pm
Eco Garden, Singapore Botanic Gardens
Pack your popcorn, soda and picnic mat and settle down under the stars to enjoy this blockbuster superhero movie, based on Marvel Comics' X-Men. With a star-studded cast, incredible special effects and pow-wow action sequences, it's a thrill ride for young and old.
18 Mar, 2:30 pm to 7:30 pm
Enabling Village
Enjoy family activities and show your support for people with disabilities at this community carnival. You can borrow books from the mobile library, catch a funny movie, have fun in bouncy castles and more. Details. 
Till 19 Mar, 10 am to 9 pm
POP @ Central
Enjoy a buy-1-get-1-free deal on over 5,000 titles at this big sale. There are also other great promotions in store for gadgets, stationery and textbooks. More info.
15 to 19 Mar
Singapore Indoor Stadium
Enter the magic world of your favourite Disney characters and stories, as Mickey and co. take to the rink to entertain and enthrall in this dazzling show. Learn more.
Till 2 April, 10 am to 9 pm
Gardens by the Bay
Catch colourful, life-sized dinosaurs at the Supertree Grove, and let your imagination transport you to their prehistoric habitat. There are also performances, workshops, carnival rides and more to look forward to.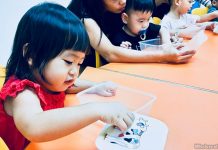 A former educator, I consider myself to be fairly open when it comes to "teaching" my child. I don't believe in hothousing at this...
Classes which teach coding for kids are increasingly popular. With an eye on the future, coding programmes and courses designed for children provide an...
FEATURED LISTINGS