At the Happy Castle cassia seeds playground at Westgate shopping mall, kids scoop away intently while parents stand around waiting patiently, eyeing their charges.
Even though small in size (this indoor play area occupies an area the size of two food stalls), the Happy Castle play area is more than enough to keep kids happily occupied, scooping and shovelling away.
Opened in late 2016, the play area at Happy Castle on Westgate level four is similar to a sand pit except that, instead of sand, it is filled ankle-deep with dark brown cassia seeds.
Cassia Seeds
Cassia seeds are the dried mature seeds of the Cassia obtusifolia L, a plant from the Leguminosae family. It is commonly used in Chinese medicine to treat eye infections and help with weight loss. Pillows filled with cassia seeds are supposed to help improve the quality of sleep too.
---
Story continues below
Guess who is heralding Christmas at Bedok Point this year – the Minions! Join Kevin, Stuart and Bob from 19 to 24 November for...
We've packed six weeks worth of activities in an easy-to-use holiday guide. Whether you want to find out what is going on at the...
---
Apparently, another use for cassia seeds is as a filler for kiddy playgrounds.
Playing at Happy Castle Cassia Seeds Play Area, Westgate
The Happy Castle seed pit (?) at Westgate is stocked with scooping toys such as spades, toy trucks and toy bulldozers for kids to use. Happy Castle has even managed to fit a ball pond with pink and green balls and a slide into the compact play area.
These simple and colourful toys are more than enough to keep young kids occupied. They quickly get to work digging into the brown cassia seeds, shifting them around and around.
Parents can accompany young children into the cassia seeds play area.
As an added bonus, unlike sand, the cassia seeds do not stick to clothing. This makes it much easier for parents to brush them off when it comes time to leave. This means that you will not be leaving behind a trail of sand as you walk around the mall.
Rates at Happy Castle, Westgate
It costs $5 for 15 minutes, $10 for one hour and $20 for three hours of play at Happy Castle, Westgate.
Shoes need to come off and socks are required to enter the cassia seeds play area. You can either bring your own socks or get a disposable pair from Happy Castle.
Happy Castle also offers a package at $68 for 10 hours of play.
The Happy Castle Cassia Seeds Playground is located at level four of Westgate shopping mall. You can find it in front of Popular Bookstore.
Happy Castle Cassia Seeds Playground, Westgate
Address: 3 Gateway Drive, Westgate, #04-K2, Singapore 608532
Opening Hours: Mon to Fri – 10 am to 9.30 pm; Sat to Sun – 10 am to 10 pm
Website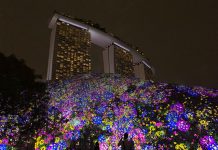 Future Together at Gardens by the Bay, a digital art exhibition, caps off the Singapore Bicentennial commemorations with interactive installations that encapsulate the hope...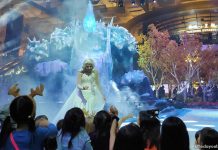 Enjoy a dazzling light show, experience snow in the tropics, meet your favourite Frozen characters – Anna, Elsa, Olaf, and embark on an obstacle...
FEATURED LISTINGS