PlayMaker Studio is a new community space at KidsSTOP where young kids can engage in hands-on activities and play. Through workshops that promote a tactile learning experience, kids get to fiddle with materials and tech-enabled toys, figuring out on their own what works and what does not.
PlayMaker Studio Workshops
To access the toys at the PlayMaker Studio, kids can participate in workshops conducted by KidsSTOP's educators at selected times during the week.
Workshop activities are designed to hone skills such as logical thinking, reasoning, sequencing and inventive thinking.
Two types of workshops are available – Tinkering and PlayMaking.
---
Story continues below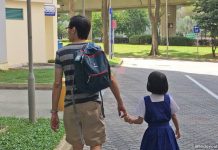 Kindergarten 2 to Primary 1. Primary 2 to Primary 3. Primary 4 to Primary 5. Children from local schools in Singapore experience many transitions...
What better a way to scurry into the New Year of the Rat than with a new year feast at Fat Chap! Priding themselves...
---
At Tinkering Workshops, children use basic materials provided at the PlayMaker Studio to create their own invention, for example a catapult or glider.
PlayMaking Workshops are more focused on the use of technology in play.
Technology Without Screens
Among the tech toys kids can play with at PlayMaker Studio is the Bee-Bot.
Bee-Bot is (if you haven't guessed it yet) a cute, bee-shaped robot. Using directional keys, kids learn to control this yellow-and-black robot and "programme" it to maneuver around the floor.
Games that kids can play with Bee-Bot include helping it navigate around a course, or sending it out to "retrieve" selected objects. These activities introduce kids to programming concepts such as logic and sequencing.
Tinkering Workshops are held on Tuesdays at 3 pm while PlayMaking Workshops are conducted on Thursday and Sundays at 3 pm.
Admission to the workshops is included in the KidsSTOP entry fee. Head to the PlayMaking Studio toward the rear section of the KidsSTOP to take part.
Nurturing the Next Generation's Interest in STEM
The PlayMaker Studio @ KidsSTOP is part of Science Centre Singapore's efforts to interest young children in Science, Technology, Engineering and Mathematics (STEM). Activities at Playmaker Studio are based on the constructivist theory of learning which holds that people construct their own understanding of the world through their experiences.
New technology toys will be gradually added to the PlayMaker Studio's arsenal to continually engage the children who visit the space.
The Infocomm and Media Development Authority (IMDA) will co-curate the age-appropriate tech-enabled toys and gadgets at the PlayMaker Studio.
Mr Tan Kiat How, Chief Executive, IMDA, said, "As part of IMDA's objectives to harness technology to provide for a better education, we are preparing our children to live, play and work in a Smart Nation. The workshops offered at PlayMaker Studio will help children develop logical thinking and sequencing at an early age, and prime them with the relevant skillsets to thrive in a digitally-rich future."
PlayMaker Studio @ KidsSTOP
Located Inside KidsSTOP
No additional fees are required to participate in workshops at PlayMaker Studio. The PlayMaker Studio is only open when workshops are being conducted. Workshops take place on Tuesdays, Thursdays and Sundays.
Workshop Schedule & Topics (Feb to Apr 2017)
1) Tinkering session – Every Tuesday, 3 pm
February – Catapult
March – Marble Machine
April – Glider
2) Playmaking session – Every Thursday and Sunday, 3 pm
February – Bee-Bot
March – Circuit Stickers
April – Scribbling Machine
As parents, we want to give Baby the best care we can afford. But how can we be sure that we're making the right...
West is best and we have the biggest bouncy playground to prove it. Bouncy Paradise which was last seen with its pop-up at PeopleUp@Pandan....
FEATURED LISTINGS