The school holidays are here! That means tons of fun things to do, and no worries about oversleeping the next day or being too tired for school come Monday. So go on, knock yourselves out with our list of highlights going on this weekend.
27 Nov, 11 am to 11:45 am
Esplanade
Follow the adventures of Krishna as a young boy through Indian dance and music, and see how he defeats monsters and gains his divine powers. A mythical tale highly recommended for kids aged four to eight. Learn more. 
26 Nov to 18 Dec, 10 am to 7 pm
Singapore Zoo
Discover more about popular dinosaurs like the T-Rex and the stegosaurus at the Singapore Zoo and learn about the importance of conservation. With life-size animatronic models and dino-related activities taking place on weekends, this is one trip to prehistoric times you don't want to miss. Read more in Little Day Out's preview.
Story continues below...
---
---
Story continues...
Till 27 Nov
Various locations
Sing and dance along with Hi-5 themselves, as they perform this Christmas show at six selected malls. The team's pal, Chatterbox or Chats, will also be on hand to add more fun and laughter. More info. 
25 to 27 Nov
School of the Arts
The classic children's story by Raymond Briggs comes to life on stage in this musical family production, which sees Father Christmas preparing for his busiest night of the year. Details.
Till 10 Dec, 7:15 pm to 12 am
Night Safari
See the Night Safari awash in fairy lights and decked out with animal light sculptures over Fridays and Saturdays this period. There's a costumed animal characters parade at the entrance, as well as a dazzling fluorescent light show to look forward to. Learn more. 
24 to 27 November
Resorts World Sentosa Theatre
Adapted from the hit animated movie, this 90-minute musical spectacle will delight fans with its catchy tunes, vivid effects and magical story. So follow the star characters of My Little Pony as they bring the audience on an enchanting adventure. Find out more. 
25 Nov to 4 Dec
National Gallery Singapore
As part of its first anniversary celebrations, the National Gallery has planned a host of interactive art installations and programmes for everyone including kids. There are also activities such as children's film screenings, metallic tattoos, bubble performances and more. Details. 
26 Nov, 10 am to 6 pm
Playeum, Children's Centre for Creativity
Playeum's new hands-on exhibition, A World Full of Stories, gets transformed into a Roald Dahl extravaganza for one day, featuring the author's characters, plots and settings. A literary feast for young fans and their parents. More info. 
Till 1 Jan 2017
City Square Mall
Catch your favourite Nick Jr. characters such as Dora the Explorer and the pups from Paw Patrol as they perform live on stage together. There's also an outdoor playland and snowfall playtime sessions happening daily. Find out more. 
Till 3 Dec, 11 am to 8 pm
Various locations
On November 26, catch award-winning storyteller Roger Jenkins and his team at Woodlands Regional Library as they conduct an entire day of free, non-stop storytelling sessions and craft workshops. Learn more. 
Usher in Chinese New Year 2019 at HarbourFront Centre with family-friendly activities, including LIVE character performances, meet-and-greets, colouring and interactive walls, craft activities and...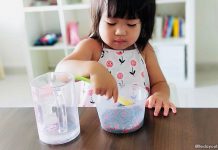 Children of all ages benefit from sensory play which often stimulates a few - if not, all - of the senses at any one...
FEATURED LISTINGS