Talk about choices! There are all manner of fun activities taking place this weekend, from park carnivals and family outings to quality theatre and fascinating exhibitions. Whatever your interests, there's sure to be something that's right up your alley.
18 Nov to 17 Dec
Drama Centre, National Library Building
The beloved Chinese fantasy classic gets a hilarious local twist in this retelling by Wild Rice Productions, which sees orphan Ah Tang transported to a strange new world where he befriends a trio of fellow travellers – Wukong, Pigsy and Sandy. Learn more. 
Till 5 Jan 2017, 9 am to 9 pm
Gardens by the Bay
Get a feel of Christmas under the crisp, cool climes of the Flower Dome. Featuring essential seasonal blooms, majestic conifers and charming yuletide scenes and decor, this floral exhibition will get you right in the festive mood. Find out more.
Story continues below...
---
---
Story continues...
Till 30 June 2017, 10 am to 7 pm
Singapore Philatelic Museum
Can't get enough of anything to do with the boy wizard? Well here's your chance to see beautiful stamps, memorabilia and private collectibles from all around the world based on the Harry Potter book and movie phenomenon. Read more in our writeup.
18 Nov to 10 Dec, 7:15 pm to 12 am
Night Safari
See the Night Safari decked out with lights and abuzz with exciting performances on Fridays and Saturdays from this weekend till 10 Dec. Be entertained by a parade of elaborately costumed animal characters, catch a graceful light show performance, or learn more about the special skills of Night Safari's various animal residents. Find out more.
19 to 20 Nov
Bishan Park-Ang Mo Kio Park
Look forward to a host of fun, healthy activities all in one location at this park-centred bonanza! There are storytelling sessions, interactive art workshops, nature and animal-related talks and walks and more lined up. Details.
19 & 20 Nov
Victoria Concert Hall
The Singapore Symphony Orchestra's popular programme for kids is back for its 14th installment. Let little ones discover the world of the orchestra in an hour of great fun and entertainment. More info.
Till 5 March 2017, 10 am to 7 pm
Science Centre Singapore
Immerse yourself in the world of Marvel's superhero team while learning the science behind your favourite world-saving characters. From Iron Man's suits to Captain America's shield and fascinating bio-data of the Avengers team, there's lots to discover. There are also free Marvel movie screenings taking place daily. Learn more.
17 to 20 Nov
Marina Bay Sands
What better way to get into the festive spirit than by bonding as a family over food? The first edition of Savour's gourmet Christmas market features a mouthwatering line-up that includes a wide range of delectable premium treats, gifts and knick-knacks, carnival games and more. Details.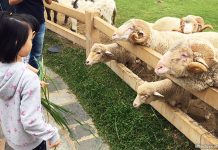 Sprinkled with quaint Italian-inspired villages, wineries with vineyards and flower fields against a mountainous backdrop, the region of Khao Yai near Bangkok, Thailand, offers...
There are plenty of festive events and activities taking place in Singapore as we approach the Year of the Pig. For those looking for things to...
FEATURED LISTINGS