"I like Charlotte," a mum summed up her review of Charlotte's Web simply as we trooped out of KC Arts Centre – Home of SRT at the end of The Little Company's production. "Me too," chimed her son.
As the titular character of the much loved children's book, Charlotte the spider spins a good yarn and a positive message, introducing words like "terrific", "radiant" and "humble" to young kids.
But beyond weaving the whole show together, it is her endearing embodiment of friendship that strikes a chord with young and old alike.
Kids learning to socialise with friends in school will be alerted to putting others before self. It also demonstrates what it means to go the extra mile in the name of friendship. And seasoned adults get the warm fuzzy feeling that all true friendships bring.
Charlotte's Web Review
The 70-minute production is refreshing. It is dramatised storytelling – without the need for the usual song and dance routines. The story of the unusual fast friends – Wilbur the pig and Charlotte – tells itself well against a simple set of a farmhouse that transforms into the Country Fair.
Charlotte, played by Sharda Harrison, is an agile and captivating barn spider. Along with her web, she spews positive words as she attempts to save Wilbur, her friend, from slaughter.
Besides Wilbur the pig, who took centrestage throughout, five other actors juggled between two and five roles each spectacularly well. Even the adults were well-entangled and entertained.
Charlotte's Web is an enchanting story. It has been named as "the best American Children's book of the past two hundred years" by the Children's Literature Association. Catch this theatrical presentation and get heartwarmingly good vibes from this tale about friendship with your kids.
Charlotte's Web
by SRT's The Little Company
28 October to 11 December 2016
KC Arts Centre – Home of SRT
Tickets available from SISTIC
Media Invite.
Images courtesy of SRT's The Little Company
#BuySingLit 2019 is back with more than 80 programmes in March 2019. This year, #BuySingLit, which encourages more people to read locally written literature,...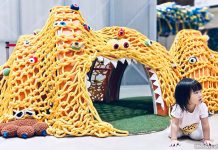 The Artground ushers in the new year with Wild Rumpus, a brand new installation by artist and designer, Adeline Loo, featuring some of the...
FEATURED LISTINGS