Take part in Little Day Out's The Magic Paintbrush Ticket Giveaway.
Take a well-known and well-loved Chinese folk tale. Add a multitude of marvellous, madcap characters. Stir together with a highly talented cast of established local actors, and bright newcomers, and then fill the whole thing with a host of lively, memorable tunes, slapstick comedy, and just a dash of suspense. What do you get?
Answer a simple question below for a chance to win tickets to
The Magic Paintbrush
The Magic Paintbrush is a musical treat, where any child over the age of three can bring their parents, and older brothers and sisters, aunties and uncles. Marvellous music, puppets and lively action will enthral the youngest audience members, whilst a witty script will entrance grownups and older children.
Toni Lee, a youngster from present-day Singapore is struggling with the pressures and stress of schoolwork and parental expectations. With an accidental wish, Toni quite unexpectedly meets a Magical Paintbrush, and is transported back in time to a Southern Province of China, where Toni becomes Ma Liang. In a series of magical adventures, Ma Liang's story unfolds.
Meet the tuneful Phoenix who guides and helps Ma Liang with his quest. Watch out for the comical Palace Guards, Sotong and Shrimp, as they try to capture Ma Liang for the cruel, greedy Emperor and his wicked schemes!
Through the fun and laughter, a clear and strong moral message about the value of creativity, friendship, and the dangers of using, or abusing power is presented in this magical, musical family show.
This wonderful play will be performed in English.
The Magic Paintbrush
Date: 27 October to 12 November 2016
Time:
27 Oct to 30 Oct
Thu to Fri: 10.30 am & 2.30 pm
Sat & Sun: 10.30 am & 2.30 pm
1 Nov to 12 Nov
Tue & Thu: 10.30 am & 2.30 pm
Wed & Fri: 10.30 am
Sat: 11 am, 2.30 pm & 7.30 pm
Sun: 11 am & 5 pm
Story continues below...
---
---
Story continues...
Venue: Drama Centre Theatre
Ticket price: $32
Tickets are available from SISTIC. 
---
Win Tickets in The Magic Paintbrush Ticket Giveaway
Little Day Out is giving away THREE sets of four tickets each for our readers to watch the 5 November, 7.30 pm show of I Theatre's The Magic Paintbrush. All you have to do is answer a simple question below and stand a chance to win:
Four Tickets
to
The Magic Paintbrush
on
Saturday, 5 November 2016, 7.30 pm
at
Drama Centre Theatre
Submit your answer by Sunday, 2 October 2016 to participate in this giveaway.
Double your chances of winning by liking and sharing this post on Facebook.
---

Congratulations to the winners!
They have each won a set of four tickets to The Magic Paintbrush:
1. Desiree Chua
2. Amy Koh
3. Charlene Chui.
---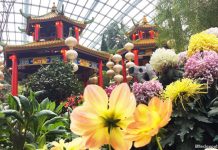 The rooftops of Chinese pavilions rise up above the foliage, beckoning visitors gazing at the Flower Field below to experience Dahlia Dreams at Gardens by the...
Usher in Chinese New Year 2019 at HarbourFront Centre with family-friendly activities, including LIVE character performances, meet-and-greets, colouring and interactive walls, craft activities and...
FEATURED LISTINGS