Learn about Singapore's wildlife at the Festival of Biodiversity 2016. Returning for its fifth edition, this year's Festival is being held amongst the greenery at the Eco Lake Lawn, Singapore Botanic Gardens from 3 to 4 September.
Festival of Biodiversity 2016
A celebration of the community's efforts to conserve Singapore's natural heritage, the focus of this year's Festival is on efforts to recover rare flora and fauna around Singapore. This is highlighted by exhibition display panels on Species Recovery and the Sisters' Islands Marine Park at the Festival.
Beside the exhibition panels, be sure to visit the booths. At the booths, you can learn more about Singapore's flora and fauna from those involved in their conservation. At OtterWatch, you can learn more about the two species of otters in Singapore. The Pangolin Story booth has posters about pangolins and the threats they face in Singapore.
---
Story continues below
Go ice skating. Complete an inflatable obstacle course. Become a human claw and grab attractive prizes! Fun times await at Aperia Mall's Christmas Village,...
Guess who is heralding Christmas at Bedok Point this year – the Minions! Join Kevin, Stuart and Bob from 19 to 24 November for...
---
Head to the Wildlife Reserves Singapore booth to learn more about Singapore's native snakes. The National University of Singapore Toddycats and Lee Kong Chian Natural History Museum are also presented, showcasing specimens from the museum's collection.
There are many other booths to explore. These include booths by the Nature Society (Singapore), ACRES, Jan Goodall Institute Singapore, Cicada Tree Eco-place and more.
Also present are students from Community in Nature schools Hwa Chong Institution and Meridian Primary School. They are showcasing their projects to promote biodiversity in their schools and community.
Naturecraft
Kids will enjoy the many free craft workshops and activities found at the Festival of Biodiversity 2016. Make a leaf-rubbing bookmark or a dragonfly craft. There is plenty for kids to do around the Festival tent.
There are also colouring activities where kids learn about diverse flora and fauna found in Singapore.
At the Nature Society (Singapore) booth, fold a paper origami piece that will be added a mixed media artwork, Bycatch.
The NParks Festival of Biodiversity takes place from 9 am to 7 pm, 3 to 4 September, Singapore Botanic Gardens, Eco Lake Lawn.
Singapore's shores are teeming with wildlife we wouldn't usually notice. Getting to an intertidal zone during periods of low tide is the best way...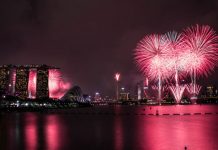 Have you got your New Year's Eve and New Year's Day 2020 plans all sorted? Another year (and decade) is soon gone, and we...
FEATURED LISTINGS