Paw Patrol's first 'live' show in Asia pounces into City Square Mall for the September School Holidays 2016.
The Nicklodeon's animated series live show featuring Chase, Marshall and Ryder hits the stage from 3 to 11 September. Answering Mayor Goodway's call for help, Chase, Marshall and Ryder jump into action on a rescue mission to save the Adventure Bay Talent Show.
With a minimum spend of $50, shoppers at City Square Mall can also redeem meet & greet passes to snap a photo with the three heros of the show.
Along with the 'live' show and meet & greet session, a Furry Fun Carnival will take place at the outdoor City Green park. Take photos with The Look-Out headquarter and life-sized Paw Patrol vehicles like Chaser's Cruise and Marshall's Fire Fightin' Truck. Other activities include a dog-themed inflatable and Dog Pirate Ship.
---
Story continues below
Singapore's shores are teeming with wildlife we wouldn't usually notice. Getting to an intertidal zone during periods of low tide is the best way...
West is best and we have the biggest bouncy playground to prove it. Bouncy Paradise which was last seen with its pop-up at PeopleUp@Pandan....
---
Visit the City Square Mall website for more details.
Paw Patrol Ready for Action 'Live' Show
3 to 11 September (except Mondays)
Tue to Fri: 2 pm & 7 pm
Sat & Sun: 1pm, 4 pm & 7 pm
Level 1 Atrium
Paw Patrol Meet & Greet
3 to 11 September (except Mondays)
Tue to Fri: 2.45 pm & 7.45 pm
Sat & Sun: 1.45pm, 4.45 pm & 7.45 pm
B2 beside the travelator
Furry Fun Carnival
2 September to 9 October
Mon to Fri: 6 pm to 10 pm
Sat, Sun & Public Holidays: 12 pm to 10 pm
City Green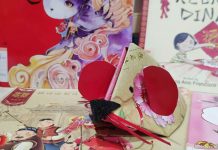 Dong dong chang! Right on the heels of Christmas is another important season for the Chinese – the Lunar New Year, of course. Remembering...
As parents, we want to give Baby the best care we can afford. But how can we be sure that we're making the right...
FEATURED LISTINGS