Makaia, the Singapore Zoo's miracle tree kangaroo, started receiving visitors from 3 August 2016 at Singapore Zoo's Goodfellow's Tree Kangaroos Exhibit.

Makaia the miracle tree kangaroo
Singapore Zoo's Goodfellow's Tree Kangaroos Exhibit
Tree kangaroos are among the rarest animal species under human care. There are only approximately 50 of them in zoos around the world.
Makaia is even more special as he was brought up by three mothers. After his own died suddenly, he was cared for by a yellow-footed rock wallaby. When he outgrew the wallaby's pouch, he was then raised by a keeper.
---
Story continues below
The season of giving is here! One of the best (and easiest) ways to show your love and appreciation to loved ones is getting...
Planning ahead for the November and December 2019 school holidays in Singapore? The year-end break is a wonderful opportunity for kids to try something...
---
With his arrival on 4 July 2016, the Singapore Zoo is now the custodian of four Goodfellow's tree kangaroos. Each kangaroo is distinguishable by pattern of yellow rings and blotches.
Makaia means "magic" in a local Papua New Guinea dialect. His name was given by carers in Australia who dubbed him a miracle baby. He has been paired with a mate, Nupela.
Visitors to the Singapore Zoo can view the tree kangaroos at the Australasian Zone.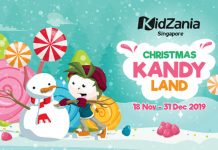 Reward your kids with the ultimate sweet treat and bring them to KidZania Singapore as it transforms into Christmas Kandy Land from 18 November...
Singapore's shores are teeming with wildlife we wouldn't usually notice. Getting to an intertidal zone during periods of low tide is the best way...
FEATURED LISTINGS