Get set for a chock-a-block weekend filled with all manner of fun! There's music, theatre, museums, exhibitions, festivals and more lined up, so you can be sure there's not a dull moment to be had.
30 July
Various Libraries Around Singapore
Singapore's first National Reading Day takes place on 30 July. It is being marked by numerous events at the libraries that include storytelling sessions, craft workshops for kids, talks for parents. Find out more about what is taking place at a library near you. Learn more.
Till 31 July
Practice Space
An adaptation of the classic French story of The Little Prince by the late theatre master Kuo Pao Kun, this interactive performance filled with beautiful melodies will transport you into a world of enchantment and wonder. Learn more.
29 to 31 July
Singapore Expo Hall 5
Parents and parents-to-be, here's your chance to browse and shop for anything and everything kid-related under one roof! Featuring a huge range of premium and major brands, you can also enjoy some great discounts on many of the products.
30 to 31 July, 2 pm & 4 pm
Asian Civilisations Museum
Learn more about the stories behind Christian art throughout Asia, in this interactive, dramatised journey. Free with admission to the Christianity in Asia exhibition, but pre-registration is required. Details.
Till 31 July, 10 am to 10 pm
Gardens by the Bay
Don't miss this highly acclaimed biennial event, which showcases breathtaking creations by the world's top garden and floral designers. Look forward to fantasy landscaped gardens, floral arrangement masterpieces, creative terrariums, and orchid extravaganza and more. Find out more.
29 to 31 July
Marina Bay Sands
Head down to this annual festival, where your contributions and participation will benefit nearly 80 local charities! Festivities include free outdoor movie screenings, a family carnival, a stunning lights-and-laser show and the Community Chest Heartstrings Walk. More info.
31 July, 10 am to 6 pm
Yong Siak Street
Embark on this kids-only trail to discover hidden animals, treasures and activities at participating stores along Yong Siak Street. Collect a stamp for every activity completed along the way, and the first 60 kids who collect four or more stamps will be rewarded with goodie bags. Details.
30 July, 4 pm to 5 pm
Esplanade
Follow the Monkey King, Sun Wu Kong, and his friends as he searches the heavens and earth for a perfect weapon to fight evil. Using traditional puppets and hand-puppetry techniques, it's a lively retelling of the Chinese epic tale.
30 July, 5 pm to 7 pm
ACM Green
Kick back and enjoy a relaxing evening along the breezy Singapore River accompanied by upbeat music performed by local and international bands. Find out more.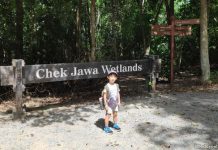 It was such a treat to be enjoying tranquility on a visit to Chek Jawa on Pulau Ubin on a boardwalk tour. Nature walks...
Meet Playpoint's Playground designer, Aryen Liaw. Her job involves coming up with creative concepts, researching playground equipment and creating fun and safe spaces to...
FEATURED LISTINGS