Forget plain vanilla, good ole' chocolate and sweetie pie strawberry.
Our ice cream chefs in Singapore are a cool creative bunch and have whipped up the most delightful artisanal flavours with chilling originality, to suit every bit of a foodie in each of us.
From deconstructed desserts found in France and Thailand, to an ingenious mix of local food, they have all been brewed, whipped, fluffed and teased to ice cool drool perfection.
Here are some of the most uniquely Singaporean ice cream finds on board our local treasure trove.
---
Story continues below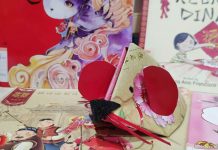 Dong dong chang! Right on the heels of Christmas is another important season for the Chinese – the Lunar New Year, of course. Remembering...
Singapore's shores are teeming with wildlife we wouldn't usually notice. Getting to an intertidal zone during periods of low tide is the best way...
---
Alishan Milk Tea
Inspired by the bubble tea wave in Singapore, high-mountain black tea leaves from Alishan are brewed in-house to form the tea essence for this soft serve.
Where to Find It: HoneyCreme

Blackforest
Creamier's version of this classic German cake is made with homemade chocolate sponge cake, dark couveture chocolate and brandied cherries from France.
Where to Find It: Creamier, Island Creamery

Chendol
This local dessert has been transformed into an ice cream, consisting of red bean and coconut, and is made by Island Creamery, the first ice cream parlour in Singapore to pioneer premium ice creams with local flavours. Over at Udders, this local delight is their National Day flavour for 2016.
Where to Find It: Island Creamery, Udders
Chilli Chocolate
Love chocolate and chilli? The Daily Scoop carries your favourite dark chocolate ice cream with a spicy kick!
Where to Find It: The Daily Scoop

Chocolate Sorbet
Made with dark Varlhona chocolate, this dairy-free product is suitable for lactose intolerant or vegetarians/vegans. It's an intense chocolate product with lesser sin, yet rich in flavour.
Where to Find It: Salted Caramel

Coco Pure
A coconut ice cream that is lactose-free, gluten-free and vegan ice creams. Throw away your inhibitions and tuck in one and all!
Where to Find It: Marble Slab Creamery 

Cookie Butter
Cookie monsters will love this ice cream that incorporates the popular Cookie Butter right into the ice cream production!
Where to Find It: Marble Slab Creamery 

Costa Rican Mocha
Amongst the entire range of coffee and tea flavours at Ice Cream Chefs is the Costa Rican Mocha, brewed and lovingly made it into ice cream.
Where to Find It: Ice Cream Chefs

Creme Brulee
Simulating the burnt sugar in the Crème Brulee dessert, this ice cream is one of Ice Cream Chef's unique top seller.
Where to Find It: Ice Cream Chefs

Danish Nougat
If you have a craving for nougat, look no further than a taste of this traditional Danish Nougat with almond strips and caramel drizzle at Andersen's of Denmark, Singapore.
Where to Find It: Andersen's of Denmark Ice Cream

Earl Grey Lavender
A beautiful creamy flavour infused with French earl grey tea with hints of lavender notes can put you in a state of pure bliss!
Where to Find It: Creamier

Grape Yakult Yogurt
It can get no more kid-friendly than this refreshingly light concoction using Yogurt and Grape Yakult drink. This works best as a post heavy meal dessert!
Where to Find It: Merely Ice Cream

Kaya Lotee
At Ice Cream Chefs, this isn't just any Kaya Lotee but apparently, one that has had its share of shimmering glory on CNN Travel. The fragrance of rich pandan kaya has been infused into the ice cream and you must simply have it atop some bread.
Where to Find It: Kaya Lotee at Ice Cream Chefs, Kaya Toast at Creamier, oKAYAlah! At The Daily Scoop

Lychee Rose
Tease the juice out of a local fruit and mix it with a beautiful flower; and you get a simply refreshing combination of fresh lychee juice and rose water. If only it was that easy!
Where to Find It: Seriously Ice Cream

Mao Shan Wang Durian
Ok, this is not exactly unusual, given that there are over 40 varieties of durian ice cream in Singapore, but being the King of Fruits it deserves a mention. In a Straits Times survey, Udders' The Mao came up tops. Should we moo or meow, we wonder?
Where to Find It: Udders

Mango Sticky Rice
A popular Thai dessert has been deconstructed into ice cream. This fragrant coconut rice ice cream is layered with sweet mango puree.
Where to Find It: Tom's Palette

Miso Gula Melaka
Can't decide if you like it sweet or salty? This sweet and salty combination with coconut palm sugar notes is coupled with umami taste of miso.
Where to Find It: Seriously Ice Cream

Mix Monster
Fancy having popcorn with ice cream? This premium soft serve ice cream is made fresh daily in-house every morning and contains more than 75% milk content, with toppings imported from Korea.
Where to Find It: Sweet Monster

Nutty Beer
A strong ice cream with a beer base, with chunky sugar crumbles and roasted pistachio nuts mixed in, is certainly something for Dads and Mums but definitely not for the kids!
Where to Find It: Merely Ice Cream

Pandan Gula Melaka
Inspired by chendol, ice kacang and pandan chiffon cake, this all-natural soft serve from HoneyCreme has a subtle, pandan flavour, layered with crunchy puffed rice, chewy attap chee (palm seeds) and topped off with a sprinkling of sweet and salty preservative-free toasted coconut chips and gula melaka syrup.
Where to Find It: HoneyCreme

Pineapple Tart
If you don't have enough of pineapple tarts, head down to Island Creamery for their Pineapple Tart ice cream. Zoom in for this only during Chinese New Year!
Where to Find It: Island Creamery

Pulut Hitam
One of the all-time favourites from Island Creamery, this black glutinous rice in coconut ice cream is a sweet delectable delight.
Where to Find It: Island Creamery

Red Velvet Cake
We're looking at a cream cheese ice cream base with a generous amount of red velvet cake chunks folded into the ice cream. It's literally eating a frozen form of the cake.
Where to Find It: Merely Ice Cream

Rose Pu-er
Tea aficionados will appreciate this smoky Chinese tea base with rose water for sweetness.
Where to Find It: Seriously Ice Cream

Salted Caramel
The signature flavour from Salted Caramel, this ice cream is an oxymoronic salty sweet taste made with Fleur de Sel (translates to 'Flower of Salt' in French, hand harvested French sea salt).
Where to Find It: Salted Caramel

Salted Egg Yolk
With every food imaginable available with salted egg yolk here in Singapore, from crabs, prawns to cheese tarts and sliders, so why not one for ice cream? Since 2011, the Salted Egg Yolk has been one of Tom's Palette's top-selling flavours. It's a salty sweet frozen custard with bits of little yolk.
Where to Find It: Tom's Palette

Sea Salt Gula Melaka
Have the best of both worlds with this Sea Salt Gula Melaka ice cream, a delightful balance of sweet and savoury, using pure palm sugar and hand-harvested sea salt from England.
Where to Find It: Creamier

Stout and Chocolate
Meet Guinness stout, a type of dark beer/dry stout with a distinctive burnt flavor derived from roasted malt barley, in an ice cream together with chocolate.
Where to Find It: Salted Caramel

Tau Sa Piah
Our humble tau sa piah has been concocted into an ice cream with fried mung beans, spiced with white peppers, fried shallots and pandan leaves, and blended in salted coconut cream.
Where to Find It: Creamier

Teh C
An adaptation of the Taiwanese recipe for the Milk Tea, Teh C is our much-loved Singapore beverage in the form of alternating layers of original milk and milk tea soft serve.
Where to Find It: HoneyCreme

Teh Tarik
Our very own local tea is reborn as pulled tea ice cream.
Where to Find It: Island Creamery

Thai Milk Tea
Find comfort in this ice cream inspired by the famous Thai beverage, with its fragrant and rich flavour from a premium Ceylon tea brew and sweet cream at Creamier. Marble Slab Creamery's Thai Milk Tea is created with real Thai tea leaves for the fragrant taste.
Where to Find It: Creamier, Marble Slab Creamery 

Tiger Sorbet
Tiger Beer fans roar! There's a sorbet made with just with Tiger Beer.
Where to Find It: Island Creamery

Wasabi Mango
A mix of spicyness and sweetness that hits just the right spot.
Where to Find It: The Daily Scoop

Wineberries
Wine connoisseurs will love this wine-soaked cranberries in a port base ice cream.
Where to Find It: Udders

White Chocolate Nori
Matcha, yes, that's been pretty normalised. But seaweed? Well, this ice cream is an interesting twist of seaweed blended into an eggless milk ice cream mixed in with chunks of roasted almonds coated with seaweed and white chocolate.
Where to Find It: Tom's Palette

Yellow Brick Road
This is the perfect pairing of caramelised bananas with brownie chunks.
Where to Find It: The Daily Scoop
Well, we've probably just licked the surface. With such an explosion of ice cream flavours here in the ever-growing Singapore ice cream scene, this is one unstoppable adventure you and your kids can embark on. So don't stay frozen to your seat. Let's go for a sweet little day out!


---
Little Day Out Flash Deals!
Show these coupons and enjoy special discounts! Click here now to get special offers from Creamier at Gillman Barracks, Merely Ice Cream and HoneyCreme!
---

More…
Check out Little Day Out's Ultimate Guide to the Best Ice Cream Shops in Singapore right now!
Not just another light show, Magical Shores at Siloso, Sentosa is Singapore's first beach light show. Now "screening" on the sand, Magical Shores Sentosa...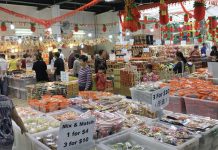 Want to know where to get superb CNY bargains? We uncover where the aunties shop for their festive goodies! Don't let the distance deter...
FEATURED LISTINGS